Top 10: Romantic Movies
Romantic movies provide us an escape from our seemingly mundane lives to a world filled with over-the-top romantic gestures and proclamations of love. While the romance in these films may seem unattainable, the movies are still enjoyable and give us hope that we can experience similar extravagant love in our own lives.
1. "Like Crazy"
The dialogue of this film is completely unscripted, making the interactions between Anna Gardner and Jacob Helm palpable, honest and relatable. Felicity Jones shines in her role as Anna Gardner, a British student studying in America. Take note of this film's captivating cinematography and amazing musical moments composed by Dustin O'Halloran.
 2. "The Spectacular Now"
Shailene Woodley, first-known for her role in "The Secret Life of the American Teenager," steps into a more mature role as Aimee Finecky, a bookworm who is the primary caretaker of her dysfunctional family. Her relationship with party-boy Sutter Keeley opens her up to an entirely different high school experience. The chemistry between the characters makes the movie extremely heartfelt and engaging.
3. "Stuck In Love"
This movie surprised me, as it is substantially deeper and more provocative than portrayed in its trailer. The soundtrack for this movie is one of the best I have ever heard, featuring artists such as Bon Iver, The National and Elliot Smith. This movie provides an in-depth and honest look at relationships of different generations and their own unique problems.
 4. "Pride and Prejudice"
The 2005 adaption of Jane Austen's beloved novel, "Pride and Prejudice," features a very young Keira Knightley. She does an excellent job as Elizabeth Bennet, a strong-willed, fiercely independent woman reluctant to marry despite family and societal pressure. The unspoken attraction, tension and chemistry between Elizabeth and Mr. Darcy make for an enjoyable and memorable movie.
5. "About Time"
Rachel McAdams is well-known for being the "ideal woman" that every man is enamored with in movies such as: "The Vow," "The Notebook," and of course, "About Now." Tim Lake, who can secretly travel back through time, falls in love with Mary (McAdams) and uses his power to ensure she will reciprocate his feelings. While McAdams usually stars in oversaturated, melodramatic films, "About Time" is surprisingly witty.
6. "Atonement"
Have tissues ready for this tragic love story between Cecilia Tallis and Robbie Turner, who are involuntarily separated by a vicious rumor constructed by Cecilia's jealous younger sister. Keira Knightly plays Cecilia Tallis, showing her strengths as an actress in historical period dramas. Emotions run high in this film, thus I don't recommend watching this after a break-up.
7. "The Invisible Woman"
Felicity Jones does an incredible job as Nelly Wharton, the secret lover and muse of famous author, Charles Dickens. Although their relationship is unconventional, the actors' strong performances go deeper than the surface and present a raw and unexpected look at their taboo love affair.
8. "Silver Linings Playbook"
It's hard to believe Jennifer Lawrence was just 21 years old when this film was released. She shows maturity in her role as a mentally ill, young widow opposite Bradley Cooper. This film takes a unique approach to mental illness, focusing on the use of relationships as a form of recovery.
9. "The Perks of Being a Wallflower"
This film deals with heavy topics such as sexual violence, domestic abuse and homosexual relationships. Despite the heaviness of such topics, the film is hopeful in nature. The interesting juxtaposition of love being destructive (molestation, domestic abuse, secrecy) and love being constructive (newfound relationships, leaving the abuser, honesty) provides a realistic picture of the power of love.
10. "500 Days of Summer"
"'500 Days of Summer' is not a love story. It is a story of boy meets girl." This is the first line of the movie, and although it sounds ominous and depressing, it demonstrates the honesty of the film. This movie depicts the often-unconventional path to finding true love, with the help of an amazing soundtrack. Lead characters Zooey Deschanel and Joseph Gordon-Levitt are lovable and cute as always.
About the Contributor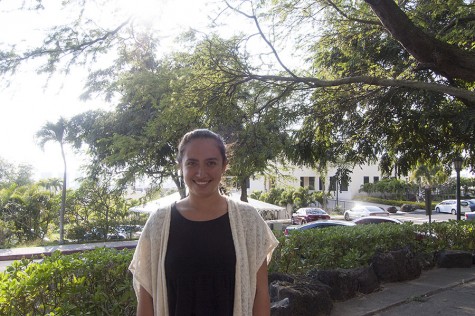 Melanie Schumilas, Staff Writer
Melanie Schumilas is a senior at Chaminade University from Toronto, Canada. Melanie has played on Chaminade's women's tennis team since transferring in...