Five tips to spending the holidays away from home
Moving away from home for school will result in unexpected sacrifices and in depth lack of family time.
As the holidays approaches, work schedules does not revolve around family time or immovability of financial statuses. However, the holiday spirit should not be undervalued due to any of the above circumstances.
Here are some tips to keep the holiday cheers in your life to make your first post-college holiday joy as special as usual family traditions.
1. Keeping traditions alive
Do you love the smell of a real Christmas tree? Get one for your apartment and decorate it with your roommates or your friends who are also away from home for the holidays. Start gathering recipes and resemble your Mom's famous dish you look forward to all the time. Make sure the things you'll really miss about home are still part of your celebration. Re-live your very own tradition you value so much in the warmth of your own home.
2. Get out of your comfort zone
Chances are, there will be someone who won't be home for the holidays. Instead of focusing on where you aren't, focus on where you are. Reach out to friends or family in the area and see what they're doing for the holidays. Plan a celebration and host a party, whether it can be a potluck dinner or a New Year's Eve party counting down the few seconds until a brand new year. If you're not hosting an event, grab a friend and go out and see what your city has to offer. Visit new restaurants and enjoy the city lights. Make your own memories and traditions in your new city, your holiday season year can be just as festive and fun as it would in your hometown. Make this a learning lesson for which every city has its own way of celebrating the holidays.
3. Limit long distance
Not being able to be physically present at holiday gatherings with family shouldn't encourage you to ignore social media. It should not be an escape of a periodic depression of scrolling through pictures and videos. Thanks to innovation technology, arrange a time with your family to Skype and "spend time" with people who are close to your heart.  Although Staying connected is important, do not let it consume your holiday preparations. It may sound bitter, but  trust me, you might not want to hear what Grandma is making for dessert, who is all at family dinner or a constant reminder of what you're missing out during family tradition gatherings.
4. Give your time
Offering your time at a homeless shelter or a nursing home can help ease their loneliness during the holidays. Helping others can be self reassurance that spending time with family isn't equivalent to what the less fortunate are actually facing during this time of the year. Remember that someone out there isn't as fortunate as you are. Care for the holidays. Pass it on!
5. Exercise
With all the calories consumptions and never ending desserts of the holiday, putting on a few pounds does take you on a guilt trip after eating a whole tray of aunty Betty's  famous mud pie. You can use this time to re-familiarize yourself with regular exercise regimen and routines. Holidays can be a time to look better and feel sexy. Remember, its all in the mind. Food should not justify the way you will look for the upcoming year. Be jolly and Chic this holiday!
About the Contributor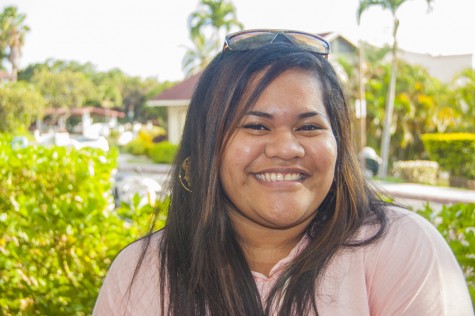 Victorian Lang, Staff Writer
Victorian Lang is from the heart of the Pacific called American Samoa and is a senior at Chaminade University. Victorian plans to move back home after...