Study Abroad prep list for dummies
A semester abroad is more than just an exotic, amazing four-month party. I learned that lesson the hard way.
Here is a list of things I wish someone had told me before I spent Spring 2013 in Florence, Italy.
1) Know the language BEFORE you leave
How are you supposed to make friends or spit game to a good-looking local if you can't speak the language? I learned this the hard way by thinking that waiting to learn the language until I was in Italy would still make me some cool Italian friends. My lack of Italian knowledge caused me to be quite mute during my time in Florence, to the point where I would become way too excited at the first sound of another English speaker and would sometime follow tourists in the street just to hear something I could actually understand.
My Advice: Help yourself out and buy Rosetta Stone at least 6 months before you leave.
2) Make friends, especially with the locals
Aside from my roommate and her friends, I was a loner. Part of my day included walking around taking pictures, partially because it was fun and partially because of my extreme lack of Italian skills. Being on my own did help me notice that Americans would gravitate to each other instead of meeting locals.
My advice: Talk to people. I would suggest using your new language skills (as mentioned in tip one) to at least attempt to make conversations with some interesting locals, you never know who you'll meet.
3) Don't take tasting too far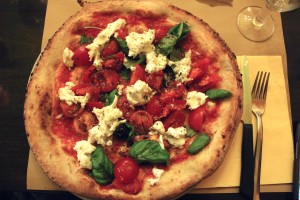 When you travel, one of the first words of advice someone tends to give you is to have "no regrets" and to "try everything'". For a vacation this is fine, but you're not on a visiting for two-weeks, you're living a new lifestyle. While 3 scoops of gelato, a giant European chocolate bar and a warm, Nutella-filled croissant from the secret bakery around the corner may be delicious, they must be consumed with caution. Yes, I learned this the hard way. The combination of cold weather, homesickness, and lack of friends cause me to gain a sweatpants-wearing 30 lbs. By the last month, I was able to consume an entire pizza by myself (I'm still secretively proud of this). The weight gain sucked, but the worst part was the fact that it limited my wardrobe to spandex and sweats. Not the best wardrobe to wear in a fashion city.
My advice: Taste, don't indulge.
4) Prepare yourself for no Wi-Fi
Before you leave, put your relationship on hold or go abroad single because the last thing you want to do is spend your night searching your house, or the town for a place with decent Wi-Fi. You do not want to be asking every restaurant you go to what their Wi-Fi password is. While my host family was required to have Wi-Fi, it was extremely spotty. With the lack of Wi-Fi, I ended up with a relationship status of taken to single within the first two weeks.
My advice: Avoid stress and be single.
5) Step out of your comfort zone
With movies like "Taken", it is no surprise if you're on guard, but don't let it stop you from adventuring. Step outside of your comfort zone and do crazy things (within reason) and you will not regret it. On my spring break I decided to hitchhike from Paris to Brussels with my friend, just to do it. We looked up how to hitchhike out of Paris, printed out the page and followed the map to the side of a highway. Were there for a couple hours in dropping temperature, and when the sun was beginning to go down, a couple pulled over and offered us a ride. It was insane and completely crazy but a memory that is once in a lifetime.
My advice: Don't be afraid of the unpredictable.
6) New school, new classes 
The school systems abroad are different. The international school I attended had class Monday – Thursday so we had 3 days to travel on the weekend.
Just to walk to class took a while, as you had to hike up five floors of lovely Italian steps thanks to a miniature elevator. A lot of the classes abroad don't transfer so you might as well take whatever you desire to – cooking, wine tasting, outdoor doodling – in order to gain a truly memorable experience. I made the mistake of taking a speech class, when I'm horrified of public speaking. I ended up choking in front of everyone, having my intimidating little Italian teacher yell at me, and I ended up dropping the class. I could've saved myself the embarrassment my simply waiting till I was back home to take it.
My advice: Take the classes you want to take, preferably on the ground level.
7) Get Familiar with the currency
Not only should you be aware of the exchange rate, but educate yourself on the currency as well. There are no dollar bills, instead there are 1 Euro and 2 Euro coins. The first time I went to the grocery store, I ended up having an anxiety attack trying to find the right change, while angry Italians were becoming inpatient behind me.
My Advice: Bring a coin purse.
8) Look for the local trends
In Florence I was surrounded by models, it's not an exaggeration. The men and women alike were perfection from head to toe. Not just because of genetics but due to their sense of fashion. For some reason, I waited until the day before I left to pack. This was probably the most ridiculous decision I made. I ended up packing tank tops and shorts when the weather was a high of 40 degrees. I had no clue that in the winter Italians will only wear dark colors: black, grey, and possibly white. And I was there wearing the colors of the rainbow.
My Advice: Pack well. Know what's in style and buy clothes before you travel; odds are they will be a lot cheaper in the U.S.
9) Educate yourself with local culture
The whole time abroad I felt like "that girl" that got the news a day too late. In Italy, they have a festival every month that is called the note Bianca (the white night) where in each piazza there is a performance and people are filled in the streets, partying all night long. I got the news a day too late, had no time to get ready so I ended up going out looking like I just rolled out of bed. In Barcelona, my roommate and I realized we got on the subway and realized that everyone (except us) was covered in colors. Apparently it was the first day of spring and there was a chalk festival, and we were the two tourists that didn't get the memo.
My advice: Educate yourself on holidays and be ready to celebrate.
BONUS: When you're traveling, have a good travel buddy
This is a hard one because a lot of times you don't know how you two will travel together until you actually start traveling. If you don't have a good travel buddy, you have no clue what can happen. The guy I decided to spring break with, began to get on my nerves the first day of our travels. I realized we weren't a good travel pair when despite my persistent attempts to get food, he kept putting it off. It got to the point where I grew so hungry he suddenly decided to sprint (out of fear, I think) to get some for me.  I was so irritated with him that I ended up catching a one-way flight back to Florence, leaving him alone in the airport.
My Advice: Travel with someone you've known for a while.
About the Contributor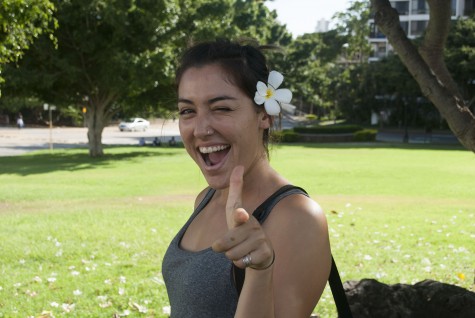 Theresa Capllonch, Staff Writer
Theresa is from the beautiful island of Oahu and is majoring in marketing at Chaminade University. As a softball player for the Swords, she has a competitive...