Top 10: Ways to eat like a local
Hawaii is a melting pot for cultures and traditions. With this diversity, comes a variety of ethnic foods that have became adopted in Hawaiian culture. Having been born and raised on the island of Oahu, these are my top local picks.
10. Loco Moco
A common meal for breakfast or lunch is the Loco Moco. It is created with rice and a hamburger patty, and is topped with eggs and gravy. A local favorite to get this plate lunch is from Rainbows Drive Inn, located off Kapahulu.
9. Musubi
Musubis are perfect to pack as lunch or bring with you to share. It is made with a layer or rice, a meat such as chicken katsu or SPAM (the use of it in Hawaii is not overrated) and wrapped in dried seaweed called nori. Try making it yourself or going to a local store. Tanioka's, which is my favorite, is located in Waipahu. It is my favorite place to fill my musubi craving because it was always my go to place to eat after my soccer tournaments.
8. Poke Bowl
If I were to picture the perfect day, it would be going to the beach with poke bowls for lunch. Poke, raw fish also known as sashimi, is found in a variety of marinades, and served as a pupu — Hawaiian word for appetizer — or as a meal. My favorite place to get a poke bowl is from Foodland, it is found all over the island with the best poke at a good price.
7. Manapua
A manapua is simply char siu, sweet pork, baked inside a sweet bun. Today, you can find manapuas with savory fillings such as vegetables, curry, sweet beans, chicken, kalua pig, lau lau and many more. Baked, steamed, sweet bread, wheat — there is a wide variety of buns that you can chose from as well. I love to get my manapuas from Libby's. Located in Kalihi, Libby's has the best manapuas, serving fluffy buns and the delicious char siu.
6. Malasadas
Malasadas are a treat brought to Hawaii by the Portuguese workers. It is a fluffy, deep-fried donut normally dipped in sugar. In more recent years, bakeries have begun to coat them with cinnamon and even li hing mui (dried sweet plum popular on the island). You can find these treats with fillings from custard to pudding. Most locals get their malasadas from Leonard's Bakery on Kapahulu.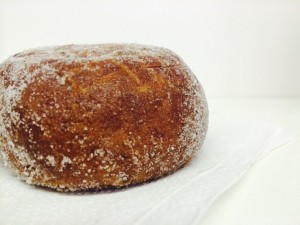 5. Acai Bowl
Becoming popular among the islands are acai bowls, a thick, smoothie-like treat that is created with acai berries and topped with bananas, strawberries, blueberries, honey, granola and, if you're lucky, bee pollen, coconut or pa'iai (poi without water) found at the Health Bar on Monserrat.
4. Crack Seed Store
The word "crack seed" includes a variety of local snacks: flavored candies, nuts, and dried fruit. A popular ingredient used in crack seed stores is the powder of a dried plum called, li hing mui. Li hing alone can be used as a treat to suck on or chew, but used as a powder form, can be used to flavor candy, drinks, or fruits. Another popular snack is mochi crunch, also known as arare, which locals use to top their popcorn. You can find crack seeds at any local convenience store. My friends and I all go to 7/11 since its is found all over the island.
3. Zippy's
Open 24 hours, Zippy's is the perfect place to go for breakfast, lunch, or dinner. Popular for any age group, they are a must go, as they are only found locally. Found at 24 different locations across the state, you are bound to find one nearby. Zippy's is known for its chili offered with, or without, beans and offer an assortment of other local dishes and pastries.
2. Hawaiian Plate Lunch
To experience the true flavors of Hawaii you must eat a Hawaiian plate. This dish normally comes with two scoops of rice, one scoop of mac salad, lomi salmon, poi, and a local entrée like kalua pig or lau lau. If you like dessert, I would suggest finishing your meal with haupia. Haupia can be served by itself or used on top of a pie. My favorite places to find good Hawaiian food are both in Honolulu. You must check out Helena's, located on School Street, or Young's Fish Market, located on Kalani Street to experience its amazing Hawaiian food.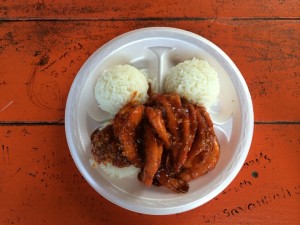 1. Coco Puff
My personal favorite, coco puffs are a chocolate-pudding filled pastry, topped with chantilly. Liliha Bakery, located off N. Kuakini St. has perfected its recipe for making these heavenly treats and is open 24 hours, almost every day, to satisfy our craving.
Honorable Mention:
Shrimp Truck
A popular tourist attraction and a local craving for islanders, the North Shore is home to the shrimp trucks. Shrimp trucks serve fresh shrimp harvested from local farms. They can be served steamed, with butter, or with the popular spicy garlic sauce found at Hono's, a shrimp truck located in Haleiwa.
About the Contributor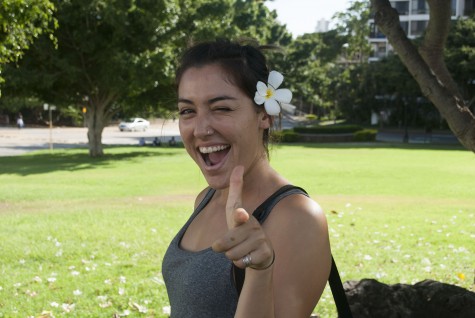 Theresa Capllonch, Staff Writer
Theresa is from the beautiful island of Oahu and is majoring in marketing at Chaminade University. As a softball player for the Swords, she has a competitive...