Top 10: Adam Sandler movies
Adam Sandler has been starring in his movies for years, leading to big hits. Sandler's movies have been known to be thrashed by the critics, but the fans still keep rolling to his movies.
10. "Click" (2006)
One of Adam Sandler's more recent movies portrays him as a man who wants it all in life, but when he discovers he is rapidly fast-forwarding, he misses some of the best moments in his life. This is one of his few works that will leave some viewers in tears. Ranked 10th for its combination of drama and comedy.
9. "Blended" (2014)
Just released a few months ago, Sandler and Drew Barrymore try to work out their clear differences in an effort to win each other's hearts. The children also play a big part in Blended to show both parents what life can be like with a mom/dad. Ranked ninth for its witty family humor mixed in with romance.
8. "Mr. Deeds" (2002)
Longfellow Deeds inherits $40 billion, a lot of money. Especially when you did nothing to earn it except be the great nephew of a billionaire. Sandler's character is a small-town kid who through endeavors, realizes there are more important things than money. Ranked eighth for its moral message that teaches us money is not everything.
7. "50 First Dates" (2004)
The second ever pairing of Sandler and Barrymore set in beautiful Hawaii shows Sandler's willingness to love under any circumstance. The couple faces ups and downs in the movie that Barrymore's character cannot remember anything due to a head injury. Ranked seventh for the beautiful scenery and sea creatures in the movie.
6. "Happy Gilmore" (1996)
As a golfer myself, this movie can appeal to even the biggest anti-golf fan in the world. Sandler is a nobody working manual labor jobs who finds out he is a pretty good golfer. Ranked sixth for its appeal to non-golfers.
5. "Anger Management" (2003)
Sandler teams up with Jack Nicholson to gain more confidence with women and with his coworkers. Sandler has some bad luck in the movie, and right when he seems like he has it all together, he manages to screw things up with his girlfriend and his friends. Ranked fifth for displays of how to treat anger in a professional and comedic stance.
4. "The Waterboy" (1998)
Some kids dream of being on a football team receiving a scholarship; others, like Sandler, want to keep the team hydrated. This has been going on for years and when his time is up, he discovers a newfound talent for football. Ranked fourth for the fact that all people are different and Sandler proves that we all are special.
3. "The Longest Yard" (2005)
A remake of Burt Reynolds' movie from the 1970s, Sandler is a washed-up football player down on his luck. One night when he gets in trouble with the law, he is sentenced to time in prison where the warden is in need of his football skills. Ranked third for showing how hard it is to earn respect from people and what people will go through to get it.
2. "You don't mess with the Zohan" (2008)
In this movie, Sandler plays the part of Zohan Dvir, an Israeli terrorist who has abilities that nobody else in the world has. One day he is fed up with life in the army and wants to start a new life in America. Ranked second for the displays of what judging people before getting to know them can have an effect on the entire community and the world.
1. "Billy Madison" (1995)
Children of rich parents never seem to amount to their expectations, but when Billy recognizes the opportunity to take over his father's Fortune 500 company, he will do anything it takes. The only challenge standing in his way is first grade through 12th grade all over again. Can he do it and live up to his father's dream? Ranked first for the displays of willpower that Sandler wants his father's company more than anything and will face humiliation to get it.
About the Contributor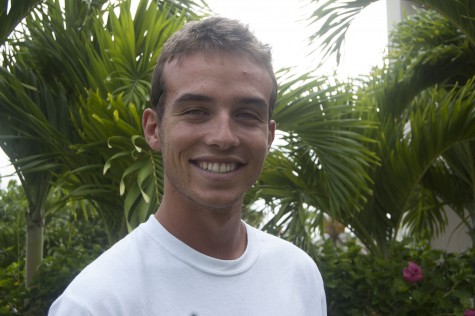 Ryan Look, Staff Writer
Ryan is a senior from Newport Beach, Calif.,  studying communications and broadcasting. Over the summer, Ryan was a lifeguard at Big Canyon Country Club...