HNL Flow: The founder's life
On weekends, college students spend time at the beach or at the club with their friends.
But if you're like me, you're spending time editing articles, delegating tasks to your peers and sending e-mails non-stop.
When I first started my own magazine in August, I had no idea how far it would take me.
At first I was so eager – and nervous – to launch HNL Flow, an online magazine about urban culture in Honolulu. My family, friends and boyfriend were ecstatic that I was starting a magazine, and some close friends volunteered to be photographers, writers, models and graphic designers. A high school classmate even asked me if she could be a public relations representative.
I started sketching ideas for the magazine immediately after the responses I received. I asked myself the number of pages that the magazine would have, and how many people would be helping me with the magazine.
In a week, my team and I covered our first event, which was a mini-block party in Kakaʻako called Urban Aloha. I was excited to have a group of people who were willing to help out with this new entrepreneurial venture.
But once the school year started, some of the members of the team, who were from Chaminade, Hawaii Pacific University and University of Hawaii, openly expressed that they were overwhelmed and could no longer help with the magazine.
I faced a number of personal challenges as well. I initially received skepticism from people because of my ability to be a leader, or a lack thereof. It was difficult for me to juggle school during the day and networking events at night. My grades were slipping in my most difficult classes because I was spending more time working on the magazine and less on my homework. I launched two online fundraising sites for the first issue, both of which proved to be unsuccessful. As I came across more of these challenges, I felt less confident that HNL Flow was not going to work out.
Sometimes I still have those moments when I feel like HNL Flow will never become a reality, but then I think of the opportunities that my team and I have been blessed with. We've been covering events, exploring more of the city life, meeting new artists and other entrepreneurs, establishing new friendships and strengthening old ones.
Some of the members of my team have also found passion into their respective positions. The journalists, who have never composed anything other than an essay, have used HNL Flow as an opportunity to improve their writing skills. The photographers have also completed some outside work, and they still continue pictures at numerous events for our photo gallery. I have even considered a career in photography.
HNL Flow has taught me that I can be a leader, and that anything is possible if you work hard for it.
I've also come to realize that HNL Flow is more than a passion project – it's my life.
Now, as my team and I prepares for HNL Flow's first issue on April 26 and its launch event on May 3, I am certainly glad to say that this has been the most worthwhile experience that I have ever had.
The hard work, the struggle, the sweat and the tears have all been worth it.
I've never regretted it once.
(You can find out more about HNL Flow by going to its official website, or follow HNL Flow on Facebook, Instagram, Tumblr and Twitter.)
About the Contributor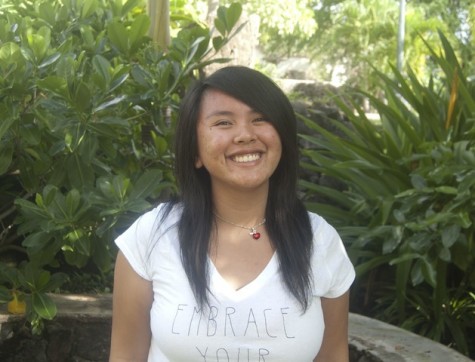 Vina Cristobal, Staff Writer
Vina Cristobal is a junior who is majoring in Communications (Mass Media). This is her second semester as a staff writer for the Silversword.  In her...