Top 10 hip-hop albums of the past 2 years
Studio albums and mixtapes alike from artists in various states have provided listening pleasure for hip-hop heads world wide and 2012 and 2013 have presented a variety of exquisite music for hip-hop. Ushering in new material from hometown favorites and some fresh faces in the business, it is easy to say that hip-hop is far from dead. Here are the top 10 best albums and mixtapes of the past two years.
10. Joey Bada$$ – "Summer Knights"
After having a bit of time to mature, Joey Bada$$ has evolved his style into a more metaphorical rapping. With original instrumentals from famous producers such as MF Doom, Statik Selektah and DJ Premier, Bada$$ continues to gain respect from the hip-hop community with each ongoing production. After the death of his close personal friend and member of his group Pro Era Crew, Capital STEEZ, Bada$$ wanted to show the world that he wouldn't let the unfortunate passing stop him with "Summer Knights." The '90s-style music he produces is a fan favorite and will continue to progress.
9. Pusha T – "My Name Is My Name"
Half of the former duo, The Clipse, Pusha T debuted his first solo album Oct. 9, 2013. Since 1997, Pusha T and his brother Malice worked together and released three studio albums. After his older brother found religion, Pusha T began his solo career and signed to Kanye West's label , G.O.O.D. Music. After releasing various mixtapes leading up to MNIMN such as the "Fear Of God" series, Pusha T continued to tease fans with samples of songs to make them crave his album. "My Name Is My Name" features a variety of artists such as Future and Kendrick Lamar while giving Pusha T his moment to shine.
8. Lupe Fiasco – "Food & Liquor II : The Great American Rap Album Pt. 1"
Lupe Fiasco was tired of hearing a lot of criticism on his third studio album, Lasers, which has received controversy based on its mainstream appeal. He decided to ricochet and create an album more comparative with his first two and deliver thought provoking, socially conscious simile and metaphor. Regaining the respect of many fans, Lupe Fiasco has created an exceptional album without having to deal with record label control.
7. Action Bronson – "Saaab Stories"
Hailing from Flushing in Queens, N.Y., Action Bronson has acquired a wide fan base through his eccentric wordplay. The ex chef is infamous for sounding similar to the hip-hop titan Ghostface Killah of the Wu-Tang Clan. His critically acclaimed mixtapes, "Well Done" produced by Statik Selektah and "Rare Chandeliers" produced by The Alchemist have only continued to earn Bronson clout through the reception of their downloads and purchases. "Saaab Stories" was Bronson's debut EP produced entirely by Harry Fraud. Though short, "Saaab Stories" is an entertaining album from start to finish due to its selection of songs.
6. Murs and 9th Wonder – "The Final Adventure"
"The Final Adventure" lives up to its title, being the fifth and final collaboration between the California underground rapper Murs and all star producer hailing from North Carolina, 9th Wonder. The album features the deep, intricate storytelling from Murs over the soulful beats of 9th Wonder. The dynamic duo decided that this album would be the last time they would work together. The chemistry between the two is unbelievable and the 37-minute album is completely praiseworthy by any fan of prior work.
5. Curren$y – "Stoned Immaculate"
Curren$y can be easily called a monopolizer of the mixtape world in hip-hop. However, in 2012, he released his fourth studio album, "Stoned Immaculate", and smoked out competition. With beats from producers like Pharrell Williams of The Neptunes and J.U.S.T.I.C.E. League, "Stoned Immaculate" gives Curren$y fans laid-back music to chill out and vibe to. Making No. 8 on the Billboard 200 chart, the album sold 36,100 copies in the first week.
4. Nas – "Life Is Good"
Notorious for creating possibly the most classic hip-hop album of all time, "Illmatic", Nas will always be a hometown hero for New Yorker. God's Son, Escobar or Nasty Nas, whatever you would like to call him, created a smash hit in 2012 with "Life Is Good". With the soothing melodies from the late Amy Winehouse, the "Cherry Wine" single from the album debuted at No.1 on the Billboard 200 chart.
3. Danny Brown – "Old"
Danny Brown is a foul-mouthed heathen with no regard for censorship. The front toothless hooligan released his third studio album Oct. 8, 2013. With a mix of dubstep and stories of the ills that surround the Detroit area, Danny Brown continues to deliver raunchy tunes for fans who just want to jam. Explicit as it may be, "Old" continues to tell stories in the perspective of the down-on-his-luck Brown and the struggles he faces daily with drug use and health issues.
2. Joey Bada$$ – "1999"
Joey Bada$$ is slowly climbing the charts in the hip-hop fanbase. Debuting with his classic mixtape that very well may stand the test of time, "1999" was created by Bada$$ when he was 17 years old. With a mixture of water-like delivery, double entendre and authentic natured New York-style rapping, Joey Bada$$ keeps the dream alive for hip-hop in youth. Now 19 years old, he basks in his glory and continues to work hard with his group, Pro Era Crew.
1. Kendrick Lamar – "Good Kid, M.A.A.D. City"
The instant classic from the new king of the west coast, Compton-native Kendrick Lamar has given hip-hop an amazing thematic album. The entire list of tracks follows a movie-like plot detailing Lamar's teenage antics in the dirty streets of Los Angeles. The Grammy-nominated album offered fans a taste of the personal history of Kendrick Lamar, with stories of peer pressure, young love and dealing with trying to progress in a horrible environment. The album is already considered a classic amongst most hip-hop
About the Contributor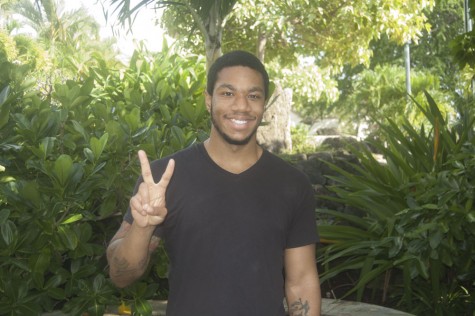 Winston Anderson, Staff Writer
Winston Anderson, a New York native, traveled across many states and waters with high hopes of studying Communications and Psychology in Honolulu, Hawaii,...