The top 5 upcoming hip-hop albums of 2014
Ushering in new material from hometown favorites and a few fresh faces in the business, hip-hop has an assortment of exquisite productions lined up for 2014. Devoted listeners are amped to purchase the biggest upcoming albums that the genre has to offer.
 Lupe Fiasco – "Tetsuo And Youth," TBA
Lupe Fiasco's upcoming album, "Tetsuo & Youth", is promised to be less political and more "ratchet." Fiasco states that the album will be very similar to his first studio album, "Lupe Fiasco's Food & Liquor," which many fans will be pleased to listen to.
After criticism of  "selling out" on his third studio album, "Lasers", Lupe Fiasco fired his metaphorical gun filled with bullets made of double entendres back at the world with his fourth studio album, "Food & Liquor II: The Great American Rap Album Pt. 1."
His album "Lasers" was received with mass hysteria based on its mainstream appeal. Fiasco was notorious for making socially conscious, politically aware, mentally stimulating rhymes; all of which are a compilation of elements used in his personal style that "Lasers" did not capture. Notably the most commericial album in his career, many fans of the Chicago entertainer were disappointed with "Lasers." He decided to ricochet and create an album more comparitive to his first two.
He delivered simile, metaphor, hyperbole and allegory as performed in prior creations with "Food & Liquor II: The Great American Rap Album Pt. 1."  Through this album he regained the favor of many fans without dealing with record-label drama as he did with "Lasers." However he appeared self-righteous and self-sabotoging with his track "B**** Bad", speaking out against misogyny in hip-hop and getting escorted off stage for spouting controversial opinions on President Barack Obama at an inaugural event.
Pusha T – "King Push," TBA
After the success of his debut solo album, "My Name Is My Name" Pusha T has pleased many fans old and new. The G.O.O.D. Music lyrical wordsmith, specializing in all things wordplay, is working on his next masterpiece. The second solo album will be entitled "King Push," named in reverence to one of the singles from his prior creation.
"King Push" will be produced in part by Chad Hugo and Pharrell Williams of The Neptunes under Interscope and Star Trak records.  He has recently posted pictures of himself alongside the two in studio on Twitter.
The younger half or the dynamic duo of Virginian brothers the Clipse, Pusha T is no stranger to rhyming over beats created by The Neptunes.  The Neptunes have been responsible for helping to bring the infamous Clipse albums, "Lord Willin'," "Hell Hath No Fury" and "Til The Casket Drops" to life with their gravity-defying, synthesizer-induced beats.
The highly anticipated album will also be produced in part by Kanye West, the head of the G.O.O.D. Music label, and The-Dream, producer and R&B singer who had a guest appearance in "40 Acres" on "My Name Is My Name." Fans can only hope that "King Push" will be released before the end of 2014 with outstanding features and singles.
Action Bronson – Currently Unnamed, TBA
Ex-chef Action Bronson is the new hip-hop superstar that continues to keep the fans hungry for the next delicacy he is whipping up.  Hailing from Flushing, in Queens, N.Y., the heavyweight Bronson has acquired a wide fan base through his eccentric wordplay and outlandish lexicon. He is infamous for sounding similar to the prominent hip-hop titan, Ghostface Killah of the Wu-Tang Clan.
The success of his critically acclaimed mixtapes — have earned "Bam Bam" clout. The vivid imagery produced by Bronson's tasteful vernacular has given listeners with a refined palate a sample of what to expect in upcoming features and productions.
His debut major label EP under Vice and Atlantic Records, Saaab Stories was a breath of fresh air for hip-hop heads that long for induplicable non sequiturs. Saaab Stories was produced entirely by the notorious Harry Fraud of Brooklyn, N.Y.
Saaab Stories also had features from the smoked out marijuana enthusiast, Wiz Khalifa, infamous Queensbridge legend and native, Prodigy of Mobb Deep and the fellow possessor of an extraordinary personal lexicon, Raekwon the Chef of Wu-Tang Clan. Action Bronson upcoming first major label studio album is still untitled.  Fans have high hopes of the next production to maintain that zesty flavor that only Bam Bam can prepare.
Joey Bada$$ – "B4.Da.$$," TBA
Joey Bada$$ is slowly climbing the charts in the hip-hop world. Debuting with his fan-favorite mixtape that very well may stand the test of time, "1999," he continues to build up credibility as a young emcee. At 17 years old he pieced together "1999" and gives a first-class performance that demands respect despite his age. Mixing water-like delivery, double entendre and authentic New York-style rhyming, Bada$$ remains diligent with his assembly of young New York emcees, the Pro Era Crew.
Months later he splashed fans with a small peek at more material in his "Rejex" mixtape, which was a compilation of songs that didn't make the cut for "1999." After the death of his close personal friend and member of Pro Era Crew, Capital STEEZ, Bada$$ wanted to show the world that he wouldn't let the unfortunate passing stop the passion burning within him in his "Summer Knights" mixtape in 2013.
After having a bit of time to mature, Bada$$ has evolved his rhyming style into a more depth-filled, metaphorical form of rapping for "Summer Knights." With original instrumentals from famous producers such as MF Doom, Statik Selektah, and DJ Premier, Bada$$ continued to gain notoriety from the hip-hop community with each ongoing production. His modern spin on '90s-style music keeps fans on their toes for his upcoming studio album, B4.Da.$$.
Kendrick Lamar – Currently Unnamed, TBA
"Good Kid, M.A.A.D. City" of TDE (Top Dawg Entertainment) records was an instant classic from the newly crowned king of the west coast, Compton-native Kendrick Lamar. The amazing thematic album following a movie-like plot detailing Lamar's teenage antics in the dirty streets of Los Angeles has gained him admiration amongst all regions of the hip-hop community.
The album was nominated for seven Grammy awards in 2014. The composition of astronomically eloquent tracks offered fans a peek at the personal history of Lamar, with stories of peer pressure, youthful romance and attempting to progress in an environment that is socially growth stunting.
"Good Kid, M.A.A.D. City" has even been stated to be the "Illmatic" of the current generation of hip-hop, which is arguably the most classic rap album of all time. "Illmatic," created by a young Nas, was said to have changed the entire way rappers wrote and performed music in hip-hop altogether.
Many fans and artists state that Lamar's album has the same spark of genius that "Illmatic" had in 1994 and will cause the current generation of hip-hop to regroup itself to a more serious, talent-driven art form once again. With dynamic wordplay and introspective storytelling, Lamar is going to have a tough time topping his 2012 magnum opus with his currently untitled next album.
In addition to the pièce de résistance that is "Good Kid, M.A.A.D. City," Lamar also featured on the song "Control" by Detroit rapper, Big Sean. In the song, "K.Dot" calls out an assortment of rappers that are notably the most prestigious in today's mainstream rapper pecking order, including Big Sean himself, and tells them that he plans to dominate the genre despite their competitive efforts. With such a monstrous record built for himself, it is safe to say that Kendrick Lamar is the most anticipated artist to release anything in 2014.
About the Contributor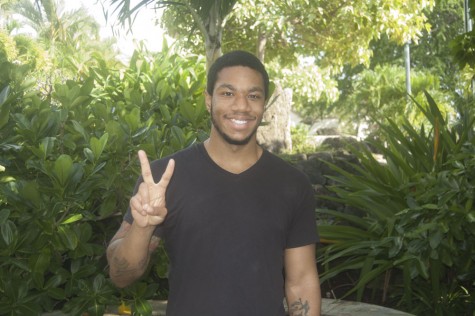 Winston Anderson, Staff Writer
Winston Anderson, a New York native, traveled across many states and waters with high hopes of studying Communications and Psychology in Honolulu, Hawaii,...