Working the Black Friday madness
Everyone knows that Black Friday is one of the busiest days in the year for any store. For customers, it's a day to buy items for a great deal, but for workers it's that one chaotic day where we're all running around like a chicken without a head. I was one of the many workers who suffered from a Black Friday weekend, working an 18 hour shift in a 29 hour time period at a retail store at Ala Moana Shopping Center. Although many of us wanted the shifts with extra pay, I don't think it was worth the lack of sleep, food and bruises I suffered over the weekend. For a day that's supposed to be about giving thanks, having people work on a day that's meant to be spent with family makes it seem as if people don't understand the concept of being thankful at all.
"If you're shopping on Thanksgiving night, you're a bad person," said Nicolas Lucero, a 22-year-old who is one of many sales associate working the opening shift for Black Friday. "After Thanksgiving is perfectly fine."
Before opening the store, associates were bouncing with energy. They inhaled coffee or energy drinks in preparation to begin Black Friday. The moment the clock struck nine o'clock, Thanksgiving night, all chaos ensued. Associates rushed to help customers. Stock checks came one after the other, and items were being prepped and run out to the sales floor.
In just half an hour into our shifts, we were climbing, running, power walking, folding and hanging clothes and attempting to handle the flood of people coming into the store.
At the beginning of my first Black Friday shift, which was from 9 p.m. to 6 a.m., I pulled from items that were just bought by customers, which means I was going to replace items that were just bought and have them sent to the sales floor. My designated area for pulling was like a mountain compared to the standard of pulling 80 to 100 items in half an hour, I was swamped. There were more than 500 items to be pulled on my part, which felt like climbing a mountain. Numerous undies covered my arms, and I wasn't even able to pull for bras. In just two hours I felt like I had gone to the gym and had a leg day.
Lindsay Sanborn, a fellow coworker who is 19 years old, is one of our fastest pullers. After I finished my two hours of pulling, she had to immediately jump on and continue the never-ending pull for undies.
"Thankfully, I did not have to deal with any customers personally, only with the items they bought," Sanborn said.
However, not all the associates were as lucky as her. Many of us had to venture out in teams onto the sales floor and spot fill for items that had already run out on the floor. A sea of people flooded our store, despite monitoring how many people we allowed into the store. It was hot and suffocating, and the customers had unpleasant attitudes. The rest of my first shift consisted of running around the sales floor, spot filling and attempting to not bump into customers or fellow coworkers.
After working a rough first shift, I dashed to the bus stop with the thought of food and sleep. It didn't help that the mall had only three food places open during the time of my break. The lines were unbelievably long, and I was not going to spend time I could be getting rest. However, I did chuckle when I customers waiting outside my workplace gave me a dirty look for simply walking into the store while they've been waiting in line for who knows how long.
My second shift was Friday from 5 p.m. to Saturday 2 a.m., which was more chaotic than the first. I was spot filling again, but instead of putting tees, shorts or hoodies on the shelves, I had to spot fill undies. Never have I hated an article of clothing so much. Customers were constantly grabbing and messing up piles of underwear, which made things harder for my team.
Although it was absolute madness on the sales floor, not all associates had to suffer from the wrath of rude customers. Aris Springs, a 20-year-old associate, as well as a Resident Assistant at Chaminade University, was one of the male associates put on the sales floor to "up sale" items, which meant that he had to convince customers to buy more.
"Surprisingly, with the exception of a few restless customers, most of the people entering our store were really friendly," he said.
After the store was closed, the rooms looked like a stampede had taken place. There were clothes everywhere and I felt bad for all the overnighters who had to refold all the clothes and make the store perfect for the next day. Black Friday was such an exhausting day and many have not gotten through our shift without the company of our friends and coworkers and copious amount of caffeine. If we didn't have those factors, the pressures that we expect from one another, from our managers and from customers would have driven us mad. The lack of sleep certainly did over the weekend after Friday passed.
"Godless, heathen monsters," said Lucero, referring to the horde of customers in the stores. "With fangs and bloodshot eyes."
About the Contributor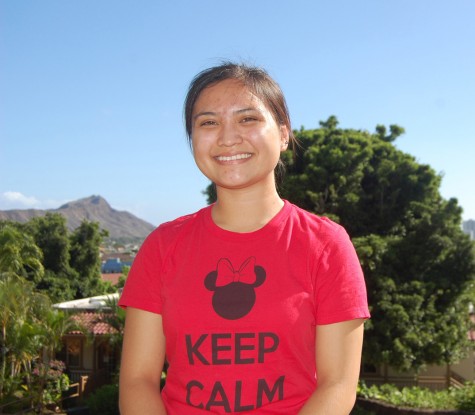 Alanah Torre, Staff Writer
Alanah Torre was born and raised on the island of Guam. She graduated from Academy of Our Lady of Guam High School. She is currently a junior at Chaminade...