Album Review: 'Spiritual Motivation'
Inspiration within is lacking in the world today. From famous rap artist Lil' Wayne to R&B singer Justin Timberlake, contemporary artists talk about self-fulfillment in sex, clothes, cars and money. As people fight to fill their lives with these physical entities, we grow weary of our spiritual understanding and prosperity from within.
A great album came out exactly one year ago called "Spiritual Motivation," and those two words are understatements to what the album presents.
Michael Mitchell also known as A.V. (Another Vessel) has released 15 songs of what he calls "Holy Hip Hop" and praise/worship music with other artists or solo. His album "Spiritual Motivation" is used to inspire the listener as well as have faith in God.
"Don't take your talents for granted. We don't just go to our purpose in life, we GROW to our purpose in life, said Mitchell in an email interview." "Be the Greatest" is the title of the first song on the Spiritual Motivation album. He raps about the great vision that he has, but with God, he's working to be even great for the cause of his beliefs.
Through overcoming adversity and making smart decisions to do the right things in our journey, while working hard to be what God puts on your heart is key. "Never Give Up" is another great song that focuses on the dreams or visions that God put in your heart. Persistence through all the trials and adversities in life makes your vision more clear. A great verse in the song is he quoting a scripture from the Bible by saying "I'm more than a conqueror through Jesus Christ."
Mitchell's album has a song called "Image" and it says, "Our image starts at Genesis 1:26." He encourages you to think not only about the victorious future that is waiting after the hard work of faith but capture the images of where you're from and the ways you're getting there.
"Faith without work is dead and that work takes effort," is what Mitchell says in his song "No Time."
This album was released in April 2011. From listening to it, he portrays his yearning for bigger better things in life and an enlightening to an even higher purpose than what has been revealed to him. His song, "I'm Writing" stands out most of all because it reveals his spiritual side that says, "This is more than just another song, I'm writing. More than just another poem, I'm reciting. But it's the fight in me. Your power's igniting me. I don't take it lightly, that you shine your light through me. So I'm writing. I'm writing." It gives the listener a deeper understanding of where his purpose for living and doing what he does remains, in God.
Mitchell mentioned, Romans 8:28 say, "And we know that all things work together for the good of them who love the Lord, and are called according to His purpose." A Bible verse he holds close to his heart.
As Mitchell ends his album with the songs "Stand" and "Motivation," he lets the listener know that he will continue to stand for what he believes. He speaks it to life by saying, "Just spreading the word of God through the town…This is where I stand." After a declaration to stand firm in Christ, AV begins to be even more motivated and asks the listener, "What influences you, motivates you…Is the spirit of God your motivating force?"
Spiritual Motivation is an album that I would request to anyone that is seeking a lift in life or just some great positive music to listen to. If you want encouragement throughout your day you can go to: http://av4christ.bandcamp.com/album/spiritual-motivation-album or www.TheVIPProject.com
About the Contributor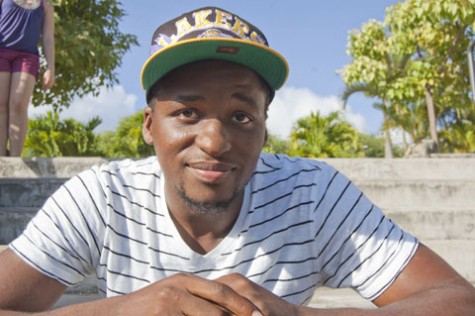 De'Andre Haskins, Staff Writer
De'Andre Haskins is a productive man who is driven to overcome the impossible. He was born and raised in Long Beach, California, and has ventured to many...