Top 10: Places to pick up chicks
Oahu is full of places to meet women, but it helps if the gentlemen are hunting their prey in the right places.  The countless outdoor opportunities and sunny weather bring out the ladies. Here are some places to practice those golden pick-up lines. Hit them where they least expect it. Expand your game beyond Zanzabar and Waikiki beach gentlemen. The list below if used correctly will have you guys with more women than you can handle if that's even possible.
10. Kapiolani Community College farmer's market
Every Saturday at 7:30 a.m. KCC opens it's parking lot to local vendors. Many do their weekly shopping here or are just tourists visiting. Stroll through looking for the lone woman or one that has fallen behind from the pack. Lots of good food and beautiful women is always a good idea.
9. Fort Street Mall
During lunchtime on Fort Street the businesses and sidewalks are full of Hawaii Pacific University women. Take a seat on a bench and cast out your line. You're bound to catch someone's attention.
8. Service learning or volunteering
Seeing the thoughtful and caring side of a guy is sometimes all a woman needs to see. For Chaminade students it's required to do a service learning project. Be a tutor at an elementary school and show the ladies how good you are with children. Win her heart here, and it's a done deal. A beach cleanup could be a chance to meet the environmental type. The benefit at these types of places is that there is ample time to converse and get to know each other.
7. First Friday
Take a stroll down through China town observing the tasteful art, enjoy live music and, of course, the hordes of women that flock here. The art ends around 9 p.m., but the clubs and bars are open for business, so make friends with the females and head to the dance floor gentlemen. You showed her your intellectual side earlier, so now it's time to show her your moves.
6. Tongs surf break
Tongs is Located on the Diamond Head side of Kapiolani Park. There is generally always a wave to ride, and the crowd is light. People gravitate here to avoid the crowds at Waikiki and Diamond Head. The mellow surf break features a mixed crow and plenty of time in between sets to strike up a conversation with the ladies.
5. Bikram yoga
A closed room at a steamy temperature of 105 degrees full of stretching women in tights sounds appealing, but by the end of the class, the gentlemen might find themselves passed out from heat stroke or swimming in a pool of sweat. The sweaty types should avoid this place. Timing is key in this environment. Be patient. Become a regular and focus on the yoga, but be friendly and observe who responds. Ask her out for an acai bowl or some other healthy option. After class she's tired and her guard is down. This is the time to strike guys.
4. Church
Whether going to be saved or looking for that wholesome good girl, the odds are with you at church. Meeting women in this setting can be a little less threatening. Get involved and learn about your prey. This might be the place to find the one but at the minimum guys will expand their spiritual side and make some good friends.
3. Sandy Beach Park
Filled with a mixed crowd of locals, tourists and college students. Sandy's is a place where the women don't go in the water, they just show off their bikinis or maybe take a stroll down the beach. Maybe play the tourist and ask them about the beach. Starting a conversation could be a challenge. This is where guys have to make opportunities and be a little bolder. Be confident and straightforward. Invite her out for drinks later. It's impossible to know if you never ask.
2. Dog parks
Look for women with no ring on their finger. Here are the more responsible type, hence the dog. The women are relaxed and happy to be spending time with their dog, so use this to your advantage and start a conversation. It would be advised for those without dogs to avoid this place. It might just be a little creepy. Like showing up to a playground with no kid, it's just something people shouldn't do.
1. Chaminade University of Honolulu
If it isn't apparent already that Chaminade's population is predominantly female, then it should be known that it is 67 percent women. Your odds just went up guys. Take some interior design classes or join the Tahitian Club, but tread lightly, because with only 2,899 students, word gets around quickly.
About the Contributor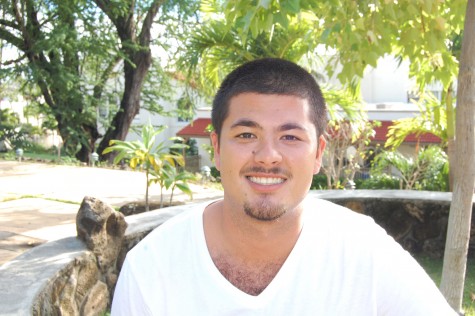 Joe Wakazuru, Staff Writer
Joe Wakazuru is originally from Seattle, Wash. He moved to Hawaii in middle school and attended Mid-Pacific Institute.  He is a senior at Chaminade University...