Wakazuru: Women's hoops ends yet another losing season
The Chaminade women's basketball season has come to an end. Five freshmen proves that it will take much more than some new talent to pull the Swords out of another doomed season.
The Swords finished the season with a 1-22 record and were outscored by almost 600 points.
It is easier to be ignorant of women's basketball than face the painful statistics, but sometimes people need to face the brutal fact that in the last seven seasons the Swords are just 10-157 overall.
At this point the best decision for Chaminade to make is to disband the women's basketball team. It is unsettling to call it quits but it is also hard to watch players and staff continuing to put their heart and effort into something without getting results.
Chaminade can't expect the team to improve by next year. This program is a sinking ship. There are just too many improvements needed. Over the last 167 games, opposing teams have averaged a 27.3-point victory against the Swords.
When a team loses games by more than 20 points, it isn't a loss, it's a thumping.
If the Swords could just be in contention with other teams, then it might make sense to try and salvage what is left.
So people must be curious as to where the Swords need improvement. The team needs help in every aspect of the game. The opponents defeated the Swords in every statistical category this season.
This kind of performance is embarrassing. Even the golf team that struggled to recruit players to fill the five spots a couple years ago is winning matches and is competitive again in the PacWest conference.
The program is a waste of time and valuable resources that could be directed toward areas that are in desperate need for help.
How about putting some lights on the soccer field so every game isn't during the day when the majority of students are in class or just don't feel like baking in the sun for two hours?
Lets replace the women's basketball team with golf. Recruiting five female golfers couldn't be too hard. The men proved that. They certainly couldn't be any worse than women's basketball.
The first improvement a struggling sports program could use would be an experienced and groomed coach. Eric Bovaird, the men's basketball head coach had seven years of coaching experience at a NCAA Division II school before coming to Chaminade.
The women's basketball head coach Bobby Keanini is in his third season at Chaminade, and he is 3-64 overall.
If it weren't for the fact that he is coaching women's basketball at Chaminade then it would be safe to say he would be long gone already.
Keanini served as the girl's basketball head coach at Roosevelt high school from 1992-2007, where his team made seven state tournaments. However, Keanini had no prior coaching experience in NCAA basketball before coming to Chaminade. He isn't or shouldn't have even been considered a candidate to coach a losing program.
"We should be working our way back up into contention somewhere in-between the conference," said Keanini, in an interview with Alan Kang from Hawaii Local News after a 78-47 loss to the D-One Stars on Nov. 1, 2012, at McCabe Gym.
The Swords might have been better off making an attainable goal. For example, not losing by more than 25 points the rest of the season.
It is too bad teams don't receive a handicap in basketball. If the Swords were given 25 points before each game, they might have a chance.
By ending this hurting program, Chaminade can move past these unsightly seven seasons. Maybe someday women's basketball will return with the understanding that it is in a competitive conference that isn't so forgiving to weak and unprepared programs.
About the Contributor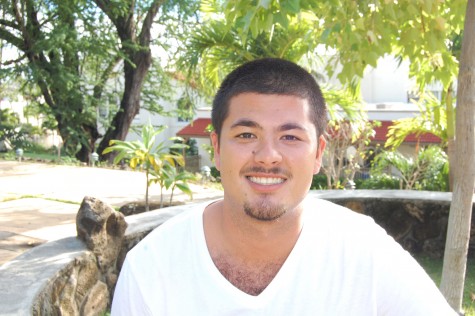 Joe Wakazuru, Staff Writer
Joe Wakazuru is originally from Seattle, Wash. He moved to Hawaii in middle school and attended Mid-Pacific Institute.  He is a senior at Chaminade University...