The giving of compliments has gotten a bit easier
Attempting to juggle classes, tests, papers, homework, a job and social life while trying to find sleep somewhere in there can be stressful on college students. In a time where it's easy to get caught up in the pressures of school, it's a nice feeling when one gets affirmed for their positive influences on their peers.
However, at times it may be difficult for some to physically acknowledge one another. It could be because they don't know each other well or they don't see each other enough.
Even not finding enough time to tell someone a compliment with schedules being busy let alone have a decent conversation is a challenge. Sometimes it's difficult to give someone a compliment if it's someone you have taken an interest in.
But using Facebook as a means of social networking, colleges around the world are beginning to change that inability to compliment one another. By creating a compliments friend page specific for their school, it allows students to anonymously submit affirmations and compliments to their peers. From there, the compliment is posted and the person is tagged in the status.
The idea of having a compliment page started with Queens University in Kingston, Ontario on Nov. 1. The main message that the page tells students is that "… if there is something nice you have to say bout someone but don't feel comfortable saying it to their face, or just want to make somebody's day, send me (the page) a compliment!"
From there, the word began to spread as pages from colleges in countries such as the United States, England and Canada began to appear. Penn State University is one of the more recent pages as it was created on Nov. 20, having the current total of university compliment pages to 98.
According to the Penn State Compliments Facebook page, it is "a social project intended to spread happiness across the Penn State community." And from the looks of it, the anonymous status' that are posted have been well received.
For example, one of the compliments was given to Penn State student Jamie Glass and given 19 likes. "Jamie GlassI think you're the absolute bubbliest and sweetest! This semester will end soon so don't stress too much beautiful!! Everyone who gets to meet you is so lucky because of how kind and supportive you are ♥"
With the compliments pages being so successful, why not bring the page to Chaminade? Seeing that this is a school in the Aloha State, it would only make sense that it would brought over the Pacific Ocean to this close-knitted community. Perhaps one day this little school will have a Facebook page that allows students to feel comfortable enough to give anyone in the student body a reason to smile.
About the Contributor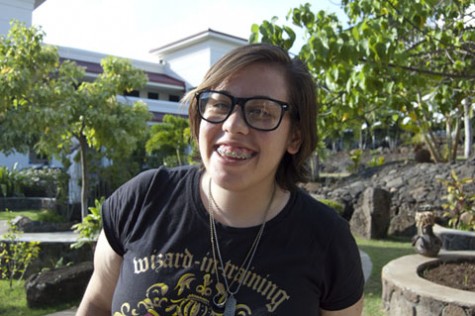 Jordan Zizzi, Staff Writer
Jordan Zizzi is a senior at Chaminade University majoring in broadcast communications. Jordan enjoys creating skits and videos along with writing as much...