Famous for a day
There is a show called "O Mundo Segundo os Brasileiros" on a Brazilian national TV channel called TV BAND. The show means "The world through the Brazilians," which is about Brazilians living all over the world and how their lives are like away from home.
They are not trying to target touristic sites or anything people have already seen; they focus on the character and what is important to them. It is very interesting to see how they ended up where they are.
When I heard they were coming to Hawaii, I thought of applying to get a role. Being a communications major specializing in broadcasting it would be essential to have some time in front of the camera. Plus, it would be fun and a unique experience to actually be part of such realistic show.
Feel days later, I heard I got the role. I was really excited, although there was no clue in my mind how it would be like. The idea of being on a national TV station made me nervous, but at the same time motivated me to try my hardest.
The day finally came, which was last Saturday, and I had to be ready. There was no script. All I had to do was spend a whole day with them and do activities that I enjoy here on the island. The crew consisted of a Brazilian producer and a camerawoman from Argentina. It was fun working with them since they did not make me feel pressured; I was able to feel comfortable enough to be the spontaneous person that I usually am.
We started the day hiking Diamond Head, where I showed them the view of Waikiki from the top. Before I moved to Hawaii, I would stare at pictures on Google images and imagine myself there. Now, when I look at the same image through my own eyes, it reminds me that anything is possible.
After, we went to my Zumba class at 24 Hour Fitness Kapiolani. The class had more than 90 students. Everyone looked like they were having a blast and didn't even mind the camera. Dancing is my passion, and it felt good being able to express that to my home country.
I took them to eat poke, then to Kaimana Beach, where most Brazilians hang out on the weekends and have BBQs. I talked to them about my goals, my life and how much I have changed living here on the island. With the camera following me on the beach, I got asked if I was a model, which made me feel a little famous.
I also took them to the Soul Signature Tattoo Shop, where I got two of my nine tattoos. I introduced them to my Polynesian friends. Although we are from different places, they make me feel part of the family.
Lastly, we went to the North Shore at night, where they were having a Brazilian Samba party. We all ended the night having a blast by dancing the night away – just the way I like it. I had my friends with me, and that made the experience even more natural and unique.
Spending the whole day on front of the camera with all the attention on me was nerve racking, but definitely prepared me for the communications world that I may lead to.
The show will air in January in Brazil, where my "fans," in other words, my friends and family, will proudly watch.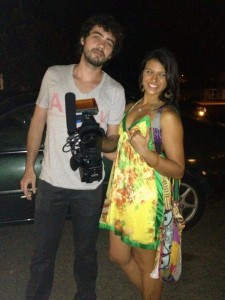 About the Contributor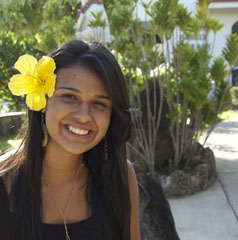 Suse Sampaio Simoes, Staff Writer
Suse is a senior at Chaminade studying Communications (broadcasting) and Political Science. She was born in Bahia, Brazil, where her passion for dancing...