Travel to make a difference
Nowadays, everyone seems caught up in such capitalist society that making money to survive seems to be the first purpose through life. Especially in college, students have so much on their minds that thinking about charity and helping one another can be bit of a challenge.
However, the world needs people willing to put some of their time aside and dedicate it to a good cause. As the cliché goes, there is a bigger world out there, and everyone deserves a chance to see it.
For those that enjoy traveling and are willing to volunteer to create a positive impact in someone else's life, volunteering abroad is the best option. It is also a great way to go beyond countries' touristic areas and seeing the "real deal."
The idea of paying to volunteer may turn some people off, but there is a need to keep in mind that traveling and volunteering is a powerful way to enhance the vision of the world and be more respectful to other cultures.
There are many volunteer programs out there giving student's a cheaper opportunity to spend some time abroad, experience a new culture and work for those in need at the same time.
Here is a list of some of the best and trustworthy volunteer programs:
Habitat for Humanity – the program focuses on building housing for unprivileged communities around the world.
Volunteers For Peace – the program offers various types of work including educational, construction, environmental and cultural all over the globe.
Curtis Washburn, Chaminade academic advising director, wanted to travel Europe in a more meaningful way than an Euro bus with a bunch of people looking through a tinted window. He decided to look into Volunteers for Peace and ended up working in Belgium and northern Germany in 1989. He met and worked with people from all over the globe and even became one of the advisors of the program after.
"You can read all the books you want, read all the websites and see all the presentations you want about what happens in another country and what life is like," Washburn said. "But it doesn't compare to when you are sitting down to eat or doing work with another person from another country. You get to know them as a fellow human and that really hits you of how connected we are in the planet, and how similar we are."
International Volunteer HQ – the program places over 4.000 volunteers abroad every year to various destinations, also with various types of jobs.
Isara Foundation – This program focuses on teaching English to unprivileged kids in Thailand. Is completely free and includes accommodation and food. The ticket to destination is the only thing the volunteer needs to buy.
Cross Cultural Solutions – the program has worked with over 30,000 volunteers and it is especially based on current community needs around the world.
"Anything you can do to serve a community is a great thing, " Washburn said. "Rather is right here at home or in another country but travel and service together is such a powerful thing,"
About the Contributor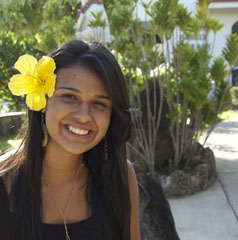 Suse Sampaio Simoes, Staff Writer
Suse is a senior at Chaminade studying Communications (broadcasting) and Political Science. She was born in Bahia, Brazil, where her passion for dancing...