Art in Honolulu
Not many people think of Honolulu as an artistic place. The climate and beautiful beaches make Honolulu a place overflowing with outdoor activities, but this doesn't mean it lacks an artistic side. In other places where the climate isn't as favorable, people have just put more emphasis on seeking out art in their community.
There is more to Honolulu though. The art and culture scene is thriving. It may not match those in cities like San Francisco and New York, but the special blend of different cultures and people make it unique. The local artists have joined Polynesian culture with the rest of the world and using this beautiful island as an inspiration, bringing enthusiasm into the art scene.
The smaller venues and tighter groups of people in the art community make the events more intimate and the importance of 'ohana is felt throughout as well.
On Sundays visit Ong King Art Center, which hosts an open stage event in Chinatown. It's not the same as an open mic, being that at anytime anyone can walk on stage and join the performance. What's nice is that only original music is allowed.
Every week at Ong King Art Center is a surprise, where a local musician can be seen or even a storyteller. This is a great opportunity for amateur performers to practice and get experience in front of a live crowd. The informal mood and setting makes this an enjoyable change of pace.
Coffee Talk in Kaimuki hosts an open mic every second and last Thursday of the month. It's a small venue and a great place for youths to try out their new songs. Watching a nervous high school student blow everyone away with his or her music is an uplifting site.
Honolulu isn't limited to only small gatherings and venues. It offers large events where a different crowd of hip and style conscious people emerges.
HawaiiSlam puts on First Thursdays slam poetry competition at Fresh Café. Watch an impromptu artist painting a portrait or abstract while hearing some slam poetry. In between sets the featured disc jockey keeps the crowd entertained.
Since First Thursday's began in 2003, it has become the largest registered poetry slam in the world with more than 500 people in attendance, according to HawaiiSlam's website. First Thursdays strives to bring in musicians, poets and artists from around the world.
As the sun goes down Chinatown comes alive on First Fridays. It's a nice feeling to walk down a street with no cars and watch a group of people performing Capoeira, the Brazilian martial arts, on Hotel Street, or stroll into one of the stores having a show or displaying local art on their walls.
Hawaii Theatre has been hosting performances, for more than 90 years such as plays, musicals, ballets, and concerts. Mid-Pacific Institute's high school halau, Pupukahi I Ke Alo O Na Pua, holds its yearly hula performance at Hawaii Theatre. The venue also holds events for visiting groups like the hip-hop duo Black Star, composed of Mos Def and Talib Kweli. There is bound to be a performance that interests everyone.
Honolulu Academy of Arts hosts Art After Dark every last Friday of the month from. Each month the theme changes. This month on Oct. 26 will be "Freak Out," a Halloween theme, and the last Art After Dark for 2012.
Honolulu Academy of Arts also has guided tours of its displays available. Right now, observe how early British and Asian influence is depicted in one of the academy's six courtyards. The outdoor nature and art is a special experience that you don't want to miss. If you would like to get more experience or learn something new, sign up for a flower and lei class or learn the art of tea ceremonies.
A lot of people just don't know that Honolulu is full of talented and art-minded people. Getting involved might not be as easy as finding the closest surf shop, but those that seek will find a community that is perpetuating the many forms of art in Honolulu.
The Hawaiian winter is coming up that brings small waves on the south shore and a little less sun so on one of these days do a little research, check out something artistic and be inspired.
About the Contributor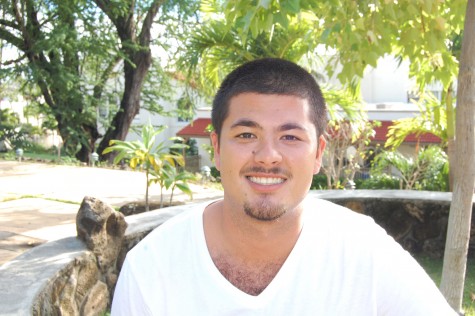 Joe Wakazuru, Staff Writer
Joe Wakazuru is originally from Seattle, Wash. He moved to Hawaii in middle school and attended Mid-Pacific Institute.  He is a senior at Chaminade University...