Semester of a lifetime
Exactly 10 months ago, I wrote a story for the Chaminade Silversword about my excitement prior on departing on my adventure called Semester at Sea, where I would study and travel around the world on a ship visiting 12 countries (including Bahamas, Dominica, Brazil, Ghana, South Africa, Mauritius, India, Singapore, Vietnam, China and Japan).
Most people traveling abroad often hope to have a "lifetime experience," and as most clichés would say, travelers hope to "never be the same again."
That was the feeling I was chasing. I wanted something out of the ordinary, something that would change me completely and make me see the world from a whole different perspective.
Well, I got more than that. Where I used to see shapes in big world maps, now I see culture. When I ask someone about they're home country, I want to know more than just where they're from. Now, I am able to appreciate and relate to everyone that is different than me – because I know deep inside, we are all connected.
Being away from my own reality, and exposed to others' reality, took a lot of getting out of my comfort zone and putting myself out there. I cannot emphasize enough, how many amazing experiences I've had being exposed to so many cultures and people. The feeling of the unknown is what brought me to the most breathtaking places I will ever be, or friends that once were just strangers.
I can go on forever about my experiences on the ship and throughout the world, but here I will nostalgically share my highlights as a world traveler:
Dominica- I visited a tribe of natives, the Carib, deep in the rainforest where they shared with us a little about their lifestyle.
Brazil-  I spent two days traveling through the Amazon River – yes, the Amazon River is so huge that it fits a ship.
Ghana- I was involved in a community service on a village called Senase, where I lived with them for four days, helped schools by teaching them English and bringing supplies and most importantly, made a lot of new friends. This experience was the one that touched me the most. To see poverty so close, yet see the happiest smiles around me, reminded me the beauty of life.
South Africa-I jumped off the highest Bungee Jump Bridge in the world, the Bloukrans Bridge, which is 216 meters above the Bloukrans River and also did a Safari in Kruger. Yes, I felt really tough after this country.
India- This country was one of my favorites. Despite the amazing food, I had an amazing experience traveling part of it alone, because I decided to do things on my own; those were the moments I found myself the most. I felt out of my comfort zone, yet so comfortable. I was able to stay a few days with a family that I today can call friends. I visited many temples, visited schools, and even an ashram where I meditated. Please, get me back to India.
Mauritius- Once Mark Twain said, "Mauritius was made first and then heaven; and heaven was copied after Mauritius." One of the most beautiful islands I know.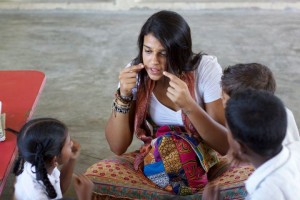 Singapore- Broke into the fanciest hotel where they have an infinitive pool that outlooks the most interesting architecture I have ever seen.
Vietnam- Shot an AK-47, the same guns they used during the war.
China- Visited Hong Kong, Beijing and Shanghai. The highlight was definitely hiking the Great Wall.
Japan- Backpacked around to 5 different cities, including Kobe, Osaka, Kyoto, Tokyo and Yokohama, and ate the best sushi in my entire life.
On the ship, I met the most incredible teachers and made lifetime friends that I lived for almost four months. I will never forget the nights sleeping on the deck or the most beautiful sunrises and sunsets I have ever seeing. I will never forget the jam sessions, dancing under the stars, and "rocking the boat" with Zumba.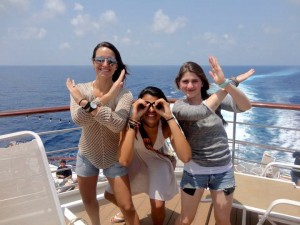 The trip is over, but it feels like I am still there. I left a piece of me everywhere I went, and took a little bit of the world with me.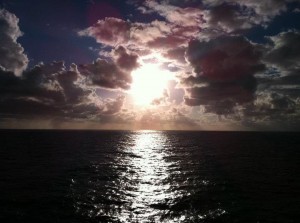 Today, Semester at Sea is still the main thought in my mind, and I will forever be chasing this incredible feeling of knowledge and certainty that no matter where I am going, I know I am getting to somewhere amazing.
About the Contributor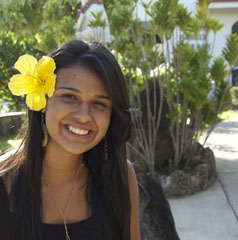 Suse Sampaio Simoes, Staff Writer
Suse is a senior at Chaminade studying Communications (broadcasting) and Political Science. She was born in Bahia, Brazil, where her passion for dancing...