A hamburger with melted cheese and a side of fries, a warm slice of pizza along with an ice-cold glass of soda, a perfectly wrapped burrito filled with cheese and beef, or a plate lunch packed with fried rice, orange chicken, and something else deep fried. Let's face it, after a long day at school or work or a fun night out with friends, finding yourself face to face with a "happy meal" is bound to happen.
Supposedly, if you want to live longer, eat more greens, no meat and less "carbs." It will keep your health in tip-top shape and you looking your best. It's "shu shu." Although it might be partially true, it's not the whole truth so help me God.
Last year was my first time observing Lent as a vegetarian. I was on a no-meat diet for 40 days and 40 nights. Going into it I weighed just about 180 pounds, I loved to eat, and still do. At the time, I was a pretty active person participating in paddling competitions and other forms of training like boxing and sabaki, a full-contact form of karate, just to name a few.  By the time Lent ended last year, my weight dropped down to 147, losing almost 40 pounds.
I did not get the same deal being a vegetarian for lent the second time around. I did everything the same. All I ate were pesce-vegetarian dishes, which mean no red meat, no chicken or turkey, etc., only fish. Believe it or not, I didn't consume too many carbohydrates either. It turns out I gained a little more than 20 pounds. I guess you could call it healthy weight, though I was less active this year doing only boxing here and there trying not to let myself go.
Wasn't I supposed to lose weight though? That's what one would think normally eating so much green stuff.
Truthfully, being a vegetarian did make me feel healthier, but a lot of it is probably the mentality I had from depriving myself of meat. It makes me curious why fruits and vegetables are commonly considered healthy foods and not meat. So, I went out and asked people about their thoughts on meat falling under the category of being a health food.
AJ Kalima-Moses is a body builder who is working on making it to the Ikaika Bodybuilding Competition. He stands at about 5'7" to 5'8" tall and weighs around 160 pounds. Anyone who sees him in person will be easily persuaded that his weight is purely muscle. Meat is a major part of his diet. He claims that it is the reason why he is able to have a bodybuilder's body type.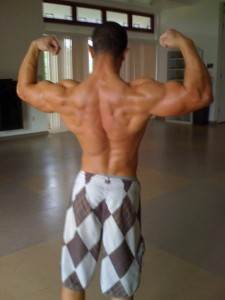 "I eat what I want," Kalima-Moses said. "I include meat, vegetables and carbs in my diet.  It's the right way to do it."
He works out at least three times a day, working out a different muscle component each time. His work-out regimen starts off with a sprint to the gym in the morning, does a two to three hour bodybuilding session, then repeats it two more times the same day.
When meat was not included in my diet, I lacked energy when I went to boxing practice. I wasn't hitting the bag as hard, and I wore out a lot sooner.
I went online and did more research, and according to Dr. Joseph Mercola, quoted in the "livestrong.com" website, meat is a "health food of the highest order. It can reduce the risk of cancer, obesity, diabetes and a number of immune disorders."
On that note, next time you decide to exclude meat from your diet for the purpose of leading a healthier lifestyle, you should think twice about it.
To you vegetarians, I'm not saying that you're diet is flawed; I'm just saying that it might be insufficient, and that you should watch what you're not eating.