CUH Professor Coordinates National Chemistry Week
National Chemistry Week is an event that is hosted by the American Chemical Society. It happens every year, it's a week long, and it is usually the third week of October. The goal of this event is to promote chemistry in the community, make better connections with our local communities, and show them why chemistry is interesting. They also encourage American Chemical Society and science enthusiasts to build awareness of chemistry at the local level inviting schools, businesses, and individuals to organize or participate in events in their communities with the goal being: to promote the value of chemistry in everyday life.
There is a theme every year, and the theme this year was "Chemistry Rocks!" because it was a geo-chemistry theme. There were a lot of rock cycles, fossil fuels. The theme of the year before was "Solving Mysteries Through Chemistry" which was a forensic theme and next year the theme is going to be outer space "Chemistry is Out of This World."
This year Dr. K. Perrault, who is the Assistant Professor of Forensic Sciences and Chemistry at Chaminade University, was the National Chemistry Week coordinator for the Hawaii local section. Perrault decided to orchestrate two different events, one of them was an interactive hands on day at Kahala Mall on Oct. 28 and the other being an illustrated poem contest.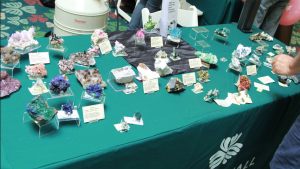 The Kahala Mall event consisted of exhibits brought by educators, students, and community representatives from the CUH Chemistry Club, the CUH Forensic Science Club, the Hawaii Agriculture Research Center, the Honolulu Zoo, KCC, HPU, Leeward Community College, Hawaii State Department of Health, Brigham Young University, and UH Manoa. All these people came and put up an exhibitor booth with activities going on all day with hundreds of kids and adults participating and having fun.
The second event was an illustrated poem contest based off of 4 grade categories: K-2, 3-5, 6-8, & 9-12 where the 1st place winner receives $50 and the 2nd place winner receives $25. The participants were encouraged to explore topics related to but not limited to: various types of rocks, fossil fuels, the rock cycle, and the impact on human activity. The entries were judged on relevance and incorporation of theme, colorful artwork, word choice and imagery, adherence to poem style, originality and creativity, and overall presentation. The poems had to be no more than 40 words and in one of the following poetic styles: Haiku, Limerick, Ode, ABC Poem, Free Verse, End Rhyme or Blank Verse.
This year there were nearly 60 entries form all over Hawaii that the judges had to go through. The judging panel consisted of Chaminade faculty members, Professor of  Chemistry Dr. Joel Kawakami, Assistant Professor of English Dr. Brooke Carlson, Professor of Fine Arts Dr. Yukio Ozaki, and Director of 'I Am A Scientist' Dr. Lori Shimoda.
The K-2 category winner was 2nd grader Cole Agaraki from Waikeawaena Elementary School on Big Island. The 6-8 category winner was 8th grader Camilla Nguyen from Kapolei Middle School. And the 9-12 category winner was 10th grader Brianna Chan from Mililani High School. The winners posters were all on display during the National Chemistry Week event at the Kahala Mall.
During this year's National Chemistry Week, the U.S. Senate recognized National Chemistry Week after two Senate members brought it to attention, "A Resolution by the United States Senate recognizing National Chemistry Week passed. It was sponsored by Senator Coons (D-Del.) and Toomey (R-Pa.) and not only highlights the importance of chemistry, but specifically commends the American Chemical Society and our Partners for organizing and convening events and activities surrounding National Chemistry Week" said David Horwitz, Program Manager from the Office of Science Outreach.