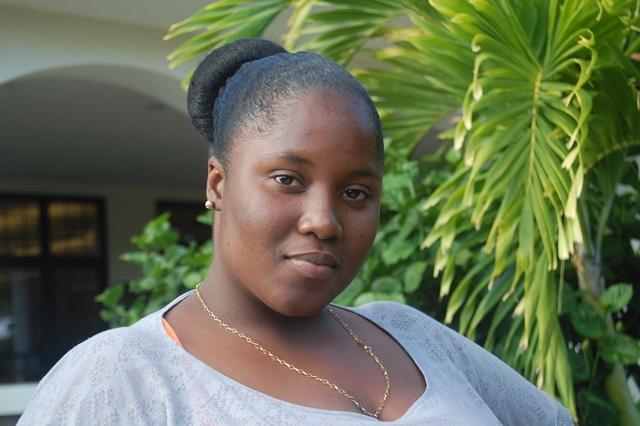 Dyon D. Auguste was born in St. Lucia, one of the many islands in the Caribbean. She moved to St. Croix, one of the Virgin Islands at the age of 10 and stayed there for two years. At the age of 12, Dyon moved with her family to Brooklyn, New York, and has stayed there since.
When attending high school at ACORN High School for Social Justice she gained a piqued interest in community service while helping her school attain a new principal. In her effort to bring justice to her school Dyon developed an interest in becoming an attorney. Arguing in a logical manner has been a passion for Dyon and to continue her journey in the effort to become a Business Lawyer she has taken the LSAT and is continuing the process of applying to law school. Her ultimate goal is to become a Business Lawyer in New York or Los Angeles.
Dyon's favorite basketball team is Boston Celtics. For right now she loves watching the Chaminade University Men's basketball team. Dyon loves writing poetry. She enjoys stimulating the mind with intellectual conversation. Dyon is currently studying Business Administration and Broadcasting Communication at Chaminade University of Honolulu.
Dyon's motivational quote is, "All glory comes from daring to begin" by Eugene Ware
Dyon D. Auguste, Staff Writer
Apr 27, 2012

How safe is your campus?

(Story/Media)

Apr 13, 2012

Soldout Commencement Ball upsets seniors

(Story/Media)

Apr 02, 2012

Questioning my single status

(Story)

Mar 19, 2012

Museum displays unwritten African-American history

(Story/Media)

Mar 16, 2012

CUH students help low-income individuals file their tax returns

(Story/Media)

Mar 09, 2012

Seniors say goodbye with a win

(Story)

Feb 27, 2012

Lack of support for Black History Month discourages students

(Story)

Feb 24, 2012

Just Lunch: A civic engagement

(Story)

Feb 10, 2012

Former Sword puts basketball on hold

(Story/Media)

Feb 03, 2012

Important homestand slipping away

(Story)