Frankie Eteuati juggles many roles at CUH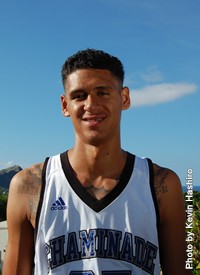 With college being the number one priority, Frankie Eteuati, a 23-year-old from Long Beach, Calif., has a lot on his plate.  He explains how he juggles being an English major with a minor in Sociology, a starting forward on the basketball team, the founder of the Poetry Club, and a member of Lumanai O' Samoa and a lot more. Eteuati has many facets to his game both literally and figuratively. He's a student-athlete but school work comes first.
"Honestly it comes down to a great support system. My coaches and boss genuinely really care about me," said Eteuati.
Eteuati emphasized that the coaches do a good job in making sure that time is set aside for school work on campus and away when the team is traveling.

"I always keep my books on me, I'm actually a reader," he said, mentioning that it could be "awkward" at times. When the guys have Dre Beats on, I'm immersed nose deep in a book for leisure.

He laughed because everyone is like," Is that a basketball player reading a book for leisure?"
He said that his ambiguous answer for everything he does on campus is that he has a very strong support system.
After graduation, in May his aspirations are to teach mentally challenged adolescents because as he was growing up, a lot of good teaches helped change the way he looks at life. He wants to help someone else and change the minds of the next revolutionary.
Eteuati is an interesting character who is mild mannered, soft spoken and wants the best out of life.
"I chose English/Sociology because it's more universal, and if you kind of have an idea on how society works, you can apply that concept to other areas of life.

With a big smile, he talked about him being president of the Poetry Club and that it's a venue for his poets to vent and be creative. They call themselves, "The Leisure Poet Society," and it's a group of diverse students who have a platform to say what they feel.
Eteuati knows what it means to say what you feel and that's one reason why he transferred to Chaminade from Division I Cal State Northridge in 2013. He had many offers to go elsewhere to play ball, but on his official visit to CUH he was sold on the program along with warm Hawaiian days. The fact that Coach Eric Bovaird and Coach Darryl Matsui were honest to him made the decision easy for him. 
"I respect what they told me and I signed on that line," said Eteuati.
This year, CUH lost all three games in the Maui Invitational. He said he was very disappointed in the way he played in Maui. Eteuati average in three games 7.4 points and 4 rebounds. Eteauti said he holds himself to higher standards when everyone else said he played well. He looked down and shook his head because there are no moral victories they just flat out lost. He still believes in his team because they still have a lot of basketball left in the season.
Four year starter Lee Bailey spoke highly of Eteauti and how positive he is as a teammate and friend.
"He's always uplifting others which is his best quality, said Bailey. He's working to get better and you can see he's going to have a good senior season."
When Eteauti has spare time, you can find him at the nearest Buddhist Temple on the island where he practices and meditates often. He believes in Buddha's original teaching of do the right thing and the here and now.
"I converted to Buddhism because I grew up in the church and a lot of it didn't make sense to me," said Eteauti.
The whole idea of ideology, he doesn't want to believe in because he doesn't need something else to help him do better. Morals came before religion according to Eteauti's and his beliefs are if you put good into the universe then you will get it back.
Before the interview ended, he talked about his cultural background of being Samoan. He feels he is Americanized and hasn't got into the thick of his culture.
"What I do know is that Samoan culture is all about having basic morals. We praise our old and young," said Eteauti.
In the near future Eteauti has plans to visit his homeland of Samoa and see where it all began.
About the Contributor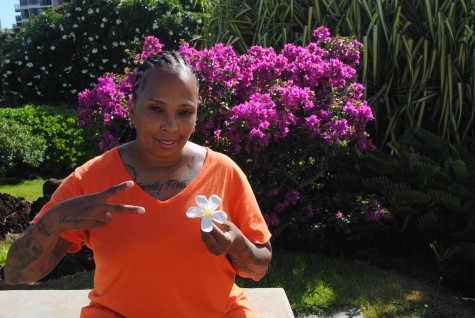 T.O. Turner, Staff Writer
T.O. Turner is from Boston, Mass., and is a senior at Chaminade University studying Communication/Broadcasting.  In her spare time, she likes to go shopping...