Bailey makes his stamp in CUH hoops
Lee Bailey, a Detroit, Mich., local made the 13-hour flight to play basketball at Chaminade for the 2011 season after circumstances ended his football career before it could begin.
Bailey proved he belonged in college basketball his freshman year when he was announced as the PacWest Co-Freshman of the year.
Bailey, who is majoring in marketing, just finished his sophomore season, playing as a starting guard and main ball handler on the team. He will be the only returning starter for the Swords next season.
Bailey led the Swords this season in steals and assists, while also playing the most minutes on the team.
Aside from being the captain of the basketball team at Detroit Country Day High School, Bailey was also a standout football player, where he led the team in rushing yards, touchdowns and interceptions.
Bailey wasn't born a star basketball player but he started early. He began playing at about 5 years old and found he had a knack for it.
"I come from an athletic family, so pretty much when babies pop out everybody is just like trying to figure out what sport they are going to play basically," Bailey said. "So when I started playing basketball I kind of caught onto that quick."
Bailey's mother ran track at the University of Michigan, while his dad ran track at Western Michigan University. His younger sister is currently a senior in high school playing volleyball and hopes to play at Grand Canyon University this coming year.
Bailey had no plans of playing basketball at Chaminade, but when his plans for a football career as a defensive corner at Dayton University fell through, he opened his recruitment back up. The head coach of Chaminade basketball, Eric Bovaird, contacted Bailey and explained how he himself had just been hired, and offered Bailey a full scholarship. And so began Bailey's career at Chaminade.
"Sometimes you just have that feeling, like it's kind of crazy, but I think it might work out, and I think so far it definitely has for me," Bailey said.
When Bailey was recruited by Bovaird, he had never been to Hawaii and had never met Bovaird in person. In fact, the only person he knew at Chaminade was Bovaird.
"The first time I actually met him face to face was right in front of (Hale) Pohaku Dorm," Bovaird said. "He had just flown in on a long trip. It was like 11 o'clock at night and he jumped out of the car, had a big smile on his face, gave me a hug and said he was ready to go. So I liked his enthusiasm, his energy, that's what we needed at the guard position."
Bovaird chose Bailey as his first recruit for Chaminade. Bovaird hadn't even been to Chaminade but was able to convince Bailey to come and play here.
One of Bailey's most memorable moments at Chaminade might be the last game of his freshman season when he had a season high of 30 points and connected on 8 of 10 3-pointers in a home game win against the University of Hawaii Hilo.
Bailey has been surrounded with great shooters the last two seasons, so his role on the team has been to try and make plays for other players rather than looking for shots of his own.
"He is very key to the success at Chaminade," Bovaird said. "He gets us into our offense everything we need to and he initiates the defense. So we kind of go as Lee goes to be honest with you. I know De'Andre (Haskins) and Bennie (Murray) were our leading scorers this year and got most of the publicity with things, but when Lee played well we won, and so we need him to play well even more than 19 times."
Bailey started every game the last two seasons, and Bovaird said he has the potential to start every game the rest of his college career.
Bailey will be the most veteran player returning next season as a junior and has a good chance at being named captain.
"I will have to step up into more of a leadership role because I won't have the older guys to play that part," Bailey said. "Like I said Dom (Dominique Cooks) is specifically one of the guys that has been a natural leader. So coming in, like he doesn't score the most points, he doesn't get the most rebounds but he's still a captain just cause when Dom says things, a lot of people listen so that's kind of where I want to be on the team."
About the Contributor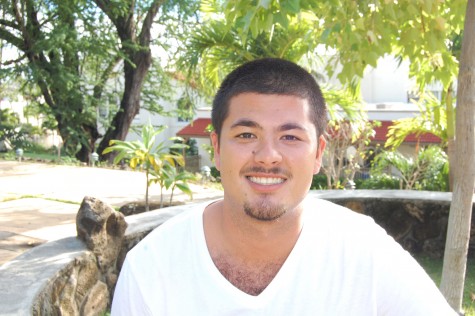 Joe Wakazuru, Staff Writer
Joe Wakazuru is originally from Seattle, Wash. He moved to Hawaii in middle school and attended Mid-Pacific Institute.  He is a senior at Chaminade University...