Erika Olsen's determination to wear the #13 jersey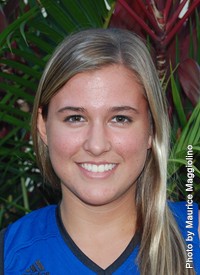 With no connections or family ties to the Hawaiian Islands, Erika Olsen, a 19-year-old from Sumner, Washington, transferred to Chaminade University earlier this semester.
"It's way different for me because I am from a small town," Olsen said. "I am definitely more open to people and have been a little more outgoing than I usually am."
Olsen graduated high school in 2011 and attended Whitworth University her freshman year. There she played basketball for the pre-season before deciding to quit and switch universities.
Olsen says that after learning that Whitworth University's criminal justice program was in a newly developing stage, she decided to look for a more solid program in her field. In her search, she came across Chaminade because of one of its top programs in the criminal justice department. She then packed her bag and decided to give it a try.
For Olsen, it was not all about basketball. Her academics came first.
"Because you have to maintain a certain GPA as an athlete, there is a lot more motivation to get your grades up," Olsen said.
However, for the love for the game and to make her family proud, Olsen was determined to make the basketball team and take on the college athlete challenge.
"If I didn't play, I was like an outcast," Olsen said. "My sister played, my dad played, my uncle played, my cousins… everybody pretty much played."
Olsen's family has been her main drive to continue down the basketball path. She grew up playing basketball since the age of three and comes from a very competitive family. Olsen says that if her family even plays pool together, there is screaming. It's just that competitive. She says that this drive has carried her passion for basketball into her college career, and she assures that she ultimately does like playing it.
In basketball, the point guard is the caller for most plays. However, Olsen, who played as a point guard throughout most of her basketball career, says that because of her past experiences she never played with the "normal" basketball structure.
"In high school I played with the same girls since it was six, so we didn't run plays," Olsen said. "We just knew each other, and knew where we would be."
On the court, it has been challenging for Olsen this year. Not only is she learning new plays,, but she is also taking on a new position as guard.
"We didn't run a single plan high school, but now there's like seven or eight plays," Olsen said. "I've always been taught to just go play and it will come."
Running plays is effective for teams, but with that comes a lot of practice and training. Olsen says that it sometimes can be hard for her, and her teammates. If there is an open shot on the court, she will sometimes miss the opportunity because she was thinking too much about the play. However, because the girl's basketball team this year is a fairly young one, it will allow more time for growth throughout the next couple years as a team.
Olsen hopes to see the team make it to the playoffs this season, and keep the good team chemistry for the years to come.
"Don't be afraid to make mistakes," said Olsen. "Just get out there and do it."
About the Contributor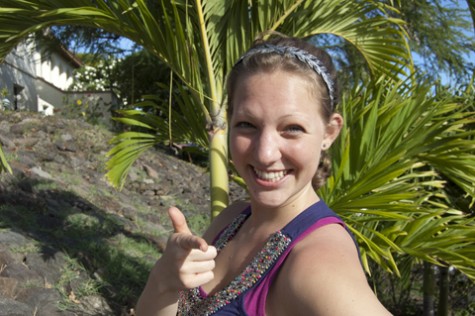 SM Webster, Staff Writer
A senior student attending Chaminade University, SarahMarie Webster, is a Mass Media-Communication Major.  She was the VP of Communications for the Chaminade...