Chaminade basketball transfer Rhys Murphy looks forward to upcoming season
Every basketball team needs a player like Rhys Murphy. Not only does he play three positions for Chaminade, but he also brings both Division I experience and an incredibly positive attitude to the 2012-2013 squad.
Murphy, a 6-foot-7 junior transfer from Oregon State, is beginning his first season at Chaminade this year.
"I love the guys on the team," Murphy said. "I think that's probably one of the big differences between this and Division I, you know you deal with a lot of egos [in Division I]."
Murphy, originally from Australia, transferred to Chaminade after two years at Oregon State and is not looking back. Murphy is especially fired up about participating in the Maui Invitational. The tournament features a national TV audience and powerhouses like Chapel Hill, Mississippi State, Butler and USC. The three-day tournament starts November 21st. Chaminade is set to play the University of Texas in their opening game of the tournament.
"You know we've just got a lot of great chemistry here at Chaminade," he said. "Everyone on the team can shoot the ball really well and anyone can beat anyone. If we just shoot the ball well that day, we can definitely beat Texas."
Last season at Oregon State, Murphy played in 18 games, averaging 5.1 minutes per match. Both of his seasons at Oregon State were marked by a foot injury, but now that Murphy is fully recovered, he is just looking forward to playing basketball again.
"I love the fact that I'm going to be able to play a lot here," said Murphy. "It's still a battle to stay healthy, but whereas the last couple of seasons I was in pain everyday, I can now play and it isn't a constant struggle. It's just going really, really well right now."
Off of the court, Murphy is just trying to enjoy Hawaii as much as he can.
"When I came to Hawaii, I didn't want to just sit in my dorm room and stare at the wall," Murphy said and laughed. "I love to snorkel. I've been to Hanauma Bay, quite a few times. I've also hiked Koko Head. I also really, really like to cook."
When he's not busy multi-tasking off the court, Murphy is busy playing multiple positions during the game. Originally solely a forward at Oregon, Chaminade is making use of both Murphy's speed and size, by also using him as a center.
"I play almost as a center here and I'll also probably guard the other team's biggest player," Murphy said. "So you know they might beat us on the rebounds, but we can outrun them and then I'll be faster than their opposition center and I can then either just shoot over them or if the play up on me and I can just drive right on by them."
And while Chaminade's 11-4 record last season is not as admirable as Oregon State's last season mark of 21-15, Murphy has no insecurities about his first season with the Silverswords.
"I think we can be really good," Murphy said. "I am expecting to win the conference. To be honest, I would be really disappointed if we didn't win it."
About the Contributor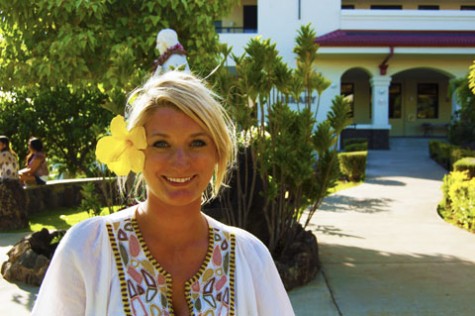 Jenni Chinchar, Staff Writer
Jenni Chinchar was born in Cincinnati, Ohio, and raised in Charlotte, North Carolina.She is a junior at Chaminade University, where she majors in Broadcast...