'Sweeney Todd' Staff Shares Trials, Victories While on Set
Director Bro. Gary E. Morris said that he and musical director Timothy Carney have always wanted to put on "Sweeney Todd," and this spring everything lined up for them to do so.
Nevertheless, there were still some challenges that the staff had to work through.
"Putting together a cast for this was difficult," Morris said. "We wouldn't have done it if Kip Wilborn (Sweeney Todd) and Shari Lynn (Mrs. Lovett) hadn't said they were going to do it. They're the best voices."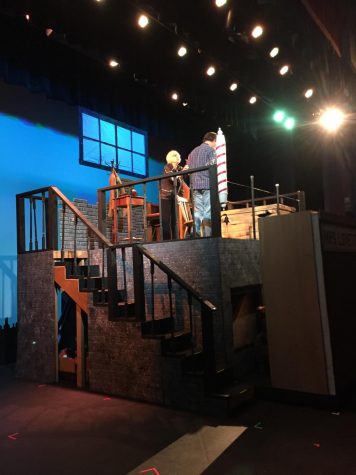 "Sweeney Todd" will be debuting at Mamiya Theatre on Friday at 7:30 p.m. Shows will run for two weeks on Fridays, Saturdays and Sundays.
According to his biography online, Wilborn has demonstrated his phenomenal operatic voice in places all over the world such as San Francisco Opera, New York City Opera, Opéra National de Paris, Dublin Grand Opera and many more.
Shari Lynn, an eight-time Po'okela award winner, which is the Grand Prize at the Hawai'i Music Festival, will be playing Mrs. Lovett, Sweeney Todd's accomplice. She is known more recently as the music director at La Pietra School for Girls, where she has worked for the last nine years.
Getting such talent was a real feat for Morris and Carney.
Morris makes sure to include Chaminade staff, faculty, students and alumni, who are interested in being a part of the play. This is how technical director Claire Paul first got involved.
Paul graduated from Chaminade in 2016 with a degree in communications and a minor in marketing and theater. She was hired as the technical director toward the end of February and began working on the set of "Sweeney Todd" immediately.
She explains how the production has been going on non-stop since the beginning of January when they first held auditions. The biggest challenge she faced was constructing and transporting the giant stage props and sets.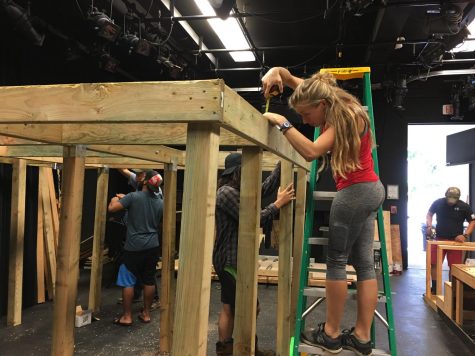 "The biggest challenge I would have to say was building it because we had someone who was going to build it and then last minute they said they couldn't so we wrestled trying to figure out what to do," Paul said. "But over spring break we had some student volunteers come in and they all helped through it. And transferring it across the street was another big challenge."
Since Mamiya Theatre had rules against painting and cutting backstage, a majority of the set was constructed in the Loo Theatre. But because of its 10-foot by 14-foot frame and 6-foot height, it had to be broken down and rebuilt in Mamiya Theatre.
Unlike its motion picture counterpart, the play will be limited as far as special effects go. But Morris and Paul explained how even though no real blood will be shed, the cast is doing everything in their power to make the gruesome scenes as realistic as possible. Because of this, Paul throws out the disclaimer that parents should probably leave their kids at home.
Tickets are $25 for general admission and $15 for students, faculty, seniors or military with I.D.