Career Fair has low turnout
On Wednesday, March 9, Chaminade hosted its traditional career fair in order to help the student body prepare for life after graduation.
Although there were plenty of students at the event, the 42 companies, programs, and organizations said the number of students seemed lower than in previous years.
"For Chaminade career fairs, I think it's hit or miss," said Warren Kwan, a talent acquisition manager for Enterprise Holdings. "There are some fairs that we get a lot of students that come in eager to find opportunities, and there are some fairs where the area of opportunities is getting the students come … to attend."
Kwan has done multiple career fairs for several major universities throughout the island, in addition to professional career fairs. After going to a variety of events of this nature, he was concerned that a below average number of students participated in Chaminade's event. From his perspective, there seemed to be a constant flow of students coming in, but the of personnel interested in the event was minimal.
"I couldn't tell exactly why," Kwan said. "Students are more active than reactive, so when they need a job or an internship then they're going to come. If they don't need it then they're not gonna look for it."
Another concern of Kwan's was how many of the students were aware that the event was happening.
"If we were to go around campus and randomly poll students and ask them how many people know about the fair today and where it is, I would like to see how many people do," Kwan said. "I don't get it. I'm sure the university does a really great job, but I don't know how many students actually get a chance to absorb that information."
Chaminade professor Maria Brownlow was also with one of the programs advertising at the event. Brownlow works in the computer information systems major and was hopeful to see the number of students turning out for this growing field. As the day progressed, she too noticed only a small number of people coming into the fair.
This caused her to become concerned about the effectiveness of the school's advertising efforts. Brownlow was shocked to hear that students were unaware of a computer information system major on the campus.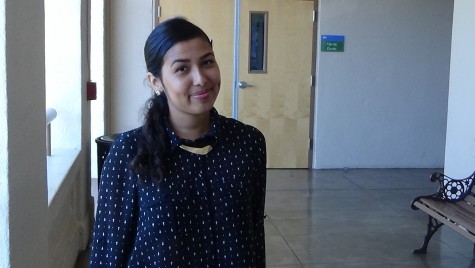 Senior Milliejoan Mongalo, 21, helped with hosting the fair through Chaminade's Career Services. She and many of the other volunteers were a part of several school clubs. Mongalo feels that the students who attend the career fair open themselves up to a number of benefits.
"I've seen actually students apply and actually get a job from this career fair," Mongalo said. "And I see mostly senior, because you know they're graduating, so they turned in their resumes in to some of these organizations. Some of these organizations have actually contacted them for interviews, so it's a perfect opportunity for them."