Chaminade's bookstore gets a face lift
On Monday, May 12, the final sale took place at 4:30 p.m. Chaminade after one week of transition, CUH became part of the Barnes and Noble college bookstore family. And on Monday, May 19, the bookstore had a soft opening to introduce the new owner of the bookstore. Two days later, Barnes and Noble College/Chaminade Bookstore opened to the CUH community. Despite the changes in owners, students have seen changes to the service.
"Not a whole lot of difference, it's just that I'm working for a larger conglomerate rather than Chaminade who was independent, small and stood alone," store manger Paul Parke said. Now we are under a corporate umbrella with over 700 universities and a partnership that we didn't have before."
With the merger, one of the biggest changes are that students are able to rent books now. Before they had to purchase books they weren't going to use in the future. Chaminade was too small compared to the other major universities on the island, and it didn't offer students the option to rent or buy used books.
Now, 80 percent of the books in the bookstore are rentable, but you have to have a credit card in order to secure books for that semester. A new Business Law textbook for rent is $149.25, whereas a new textbook to buy costs $229.65. The rental option allows students to save a significant amount every semester, but some students feel as if this option wasn't advertised enough for the students to be aware of it.
"Barnes and Noble did help me pocket wise, but I'm more of a fan of keeping my books and the book I rented was for Marketing," said junior Darnell Fenderson, who is a Business major from Cleveland, Ohio. "The bookstore has to promote and let students know that there are books out there for rent and not for sale. Get the word out around campus before school starts if not it will be too late and students would already have brought their books."
Sherry Bagoyo, from Honolulu, graduated from CUH in 2006 with a degree in Accounting and now is a Business Analyst for Chaminade. She recalls the bookstore and the old publishing company wasn't competitive enough. She mentions the new store is doing well, but added that she will have to wait until next June to officially know for sure.
"The vice president of Finance and Facilities decided to go into partnership with Barnes and Noble," she said. "It wasn't easy," and there were a lot of factors involved. Barnes and Noble has a big reputation that will bring in more venders, and they have more buying power."
Barnes and Noble has a competitive edge in serving of 4 million students and 400,000 faculty members across the country, according to the company's employee hand book. It's the top company in the specialty retailers industry, publishing and retail of books, according to the Barnes and Noble employee handbook that tells the history of this company. The slogan for Barnes and Noble states, "If we don't have your book, nobody does…" It opened its doors in New York City in 1932 and has continued to grow. Chaminade is proud to be a part of such a great tradition, according to Bagoyo said. And added students can enjoy more spirit wear and is pleased with the new apparel in socks, towels and pennants. The bookstore also has cold drinks like water, Pepsi and Gatorade, rented books and student workers to help them.
Martaluz Olang, a sophomore from Hartford, Conn, who is a Forensic Science major, is happy about the change.
"I like the switch, but what I do miss is the options of women's apparels in colors and sizes," she said." It makes sense to have more options for women, because the school is made up of 62 percent females. But overall the bookstore definitely gave itself an upgrade."
About the Contributor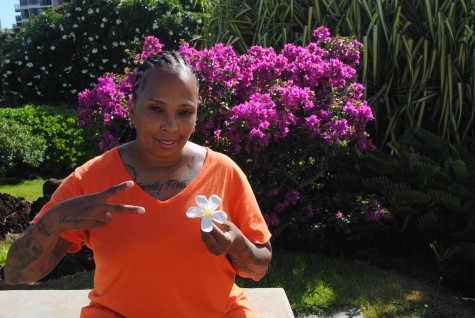 T.O. Turner, Staff Writer
T.O. Turner is from Boston, Mass., and is a senior at Chaminade University studying Communication/Broadcasting.  In her spare time, she likes to go shopping...