Many persevered and conquered
An Insanity challenge started with seven people, but only five remained in the end.
Straying from the typical Zumba, self-defense and yoga classes, on Friday, April 19,
Office of Student Activities and Leadership hosted Insanity at the Loo Center to promote health and fitness.
"I wanted to promote a healthy lifestyle and a sense of community," said Starr Benson, an OSAL Student Loo Center worker. "Especially in college where students try to balance school, sleep and social life. Having a healthy body is just as important as making good grades. Also, there's a lot of people on campus, guys and girls alike, not just athletes who are into fitness, and I want them all to come out and support each other. Having a workout partner keeps you motivated and going, as you both try to strive for a healthy life together."
Popping in the Insanity cardio DVD and dimming down the lights, the class started with sound of Shaun T's voice. Although, the class was chaotic in the beginning, with students running in and out of the Loo center, within 10 minutes, the seven students settled down and fell into sync with the video. Despite the surrounding spectators staring at the class, not one student minded looking silly while trying mimic the exercises. All their concentration focused on the video with only the intent of getting a good workout.
The Insanity challenge began with light exercises, such as jogging and butt kicks; however, as the video progressed, the intensity went up. Within 20 minutes, sweat dripped onto the floor. The sound of people trying to catch their breath could be heard, and people began taking breaks. Two students disappeared and never came back.
Many struggled with the exercises that dealt with huge movements. People barely kept up with the jumps and nearly gave up when followed by pushups. Many opted to take a break, especially because OSAL offered Gatorade and granola bars.
"It was hard! It was vigorous. It was insane," said Kanaloa Ducosin, a freshman majoring forensic science. "I wanted to stop and rest."
Ducosin, who considers doesn't consider himself fit, said he wanted to give up many times. He took many breaks and was worn out, but with the help of his friend Benson, he pushed though. Ducosin and Benson made a promise with each other to persevere the workout as long as the one of the two was still going on.
After 45 minutes of enduring exhaustion and pain, the challenge was complete. Everyone was relieved, and people smiled as the feeling of accomplishment and success seeped in.
"Never defeat yourself mentally," Benson said. "Your mind is very powerful muscle, so your thoughts become you. Don't go into exercise with a defeated mind set. Your brain quits before your body does, so exercise challenges you not just physically but mentally as well."
About the Contributor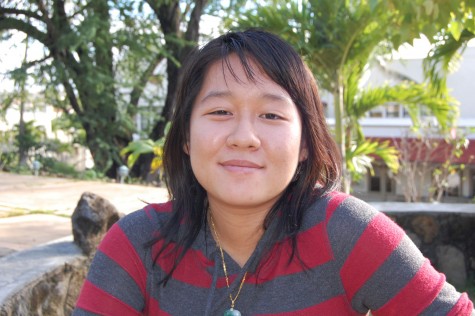 Jasmine Cho, Staff Writer
Jasmine Cho graduated from President William McKinley High School. She is currently a sophomore at Chaminade University of Honolulu and is majoring in...