Manicure, Pedicure or Haircut? Pick your choice.
It's almost time for Chaminade students to get their glamour on. Commencement Ball is around the corner on April 26, and surely, students will want to look their best. The Chaminade Student Programming Board will be offering a manicure, pedicure or haircut to students.
On Monday, April 22, Programming Board will be hosting the manicure or pedicure day, and Wednesday, April 24, will be the haircut day. The cost accumulation of prettying oneself can be pricey, so save money by attending the manicure or pedicure event. Students have a choice to choose between a manicure, pedicure or haircut, and it's free! Sign ups is on Monday, April 15 from 12:30 p.m. to 1:30 p.m. at the Chaminade Student Government Association office and will continue until the list fills up.
"We wanted to give people a way to prepare for commencement Ball … get pampered before they go out and look nice, said Querida Dydasco, the vice president of Programming Board.
Dydasco came up with the event because she thought more students would appreciate this event. She wants people to get excited for Commencement Ball and used the manicure, pedicure and haircut days as a promotion for it.
The manicure or pedicure will be at Modern Nails on 11th Avenue. Claudia Chan, the member of the programming board in charge of the event, said for a more relaxing experience, the employees at Modern Nails would be providing cookies and water. The manicure or pedicure event will be split into two shifts: 5:30 p.m. and 6:30 p.m. With the salon's limited space, each shift will take 10 people. A van will be driving students to the location.
Students will get their haircuts at Supercuts near Chaminade.
By taking advantage of the manicure, pedicure or haircut event, students will save $15 to $20 dollars on a manicure or pedicure and $17 on a haircut.
Vina Cristobal, a sophomore majoring in communication, said she was thrilled to hear about the manicure, pedicure and haircut day. The last time she had a manicurist or pedicurist do her nails was two years for her high school senior prom.
"Who can't pass up a free manicure or pedicure?" Cristobal said.
She is opting for the pedicure because it's "good on my feet."
Cristobal does her nails often at home, but rarely has a pedicure. So with this pedicure, she said she plans to sit back and relax while someone works on her feet.
"People don't really have enough time and money for a manicure throughout the semester," Chan said. "I know, for me, I don't. This is a really good idea to use Commencement Ball as a sort of platform to just give yourself an excuse to get pretty."
About the Contributor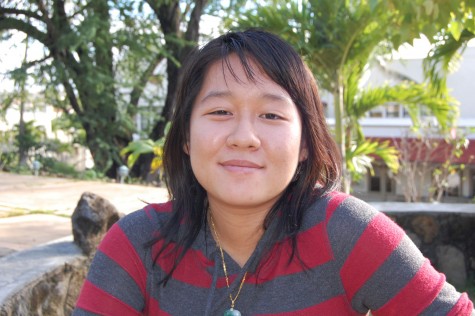 Jasmine Cho, Staff Writer
Jasmine Cho graduated from President William McKinley High School. She is currently a sophomore at Chaminade University of Honolulu and is majoring in...