Fight cardiovascular disease: Wear Red Day
Cardiovascular disease claims the lives of nearly 500,000 American women each year, and is the No. 1 killer of U.S. women, according to goredforwomen.org.
Having a campus that is predominantly females, the mostly female staff of Student Support Services likes to stay informed about women's issues, especially health issues. Not only do they want to keep themselves informed on issues but the students of Chaminade as well.
"We want to help generate awareness about heart disease and prevention"," Julie Tarter, Student Support Services Coordinator, said. "Heart disease is the leading cause of death of women, especially Native Hawaiians."
Ten years ago, the American Heart Association and the National Heart, Lung and Blood Institute created National Wear Red Day to raise awareness by wearing red each year on the first Friday in February. Millions of women and men come together to wear red, take action and commit to fighting this disease.
"We like to bring awareness to issues each month to promote health and wellness," Tarter said. "I personally do not know anyone that has battled heart disease, but understand the need for promoting wellness to save lives. Also, heart disease is prevalent in young athletes. In Student Support Services, we work closely with athletics and know the importance about staying active to maintain a healthy life."
On Feb. 1, the Chaminade community took part in the Wear Red Day in the Loo Center sponsored by Student Support Services.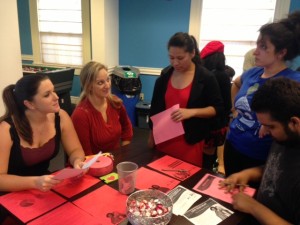 "This is the second time that Chaminade has participated in the National Wear Red Day," Tarter said. "It was a larger turnout than last year and a lot students, men and women, and staff were wearing red which was amazing."
Throughout the event, the Student Support Services had a slide presentation of facts and information on heart disease so that when anyone walked into the Loo Center, students would be aware of what was happening. Two staff members from Student Support Services asked students true or false questions about facts on cardiovascular disease. More than a handful of students were able to answer the correct answers.
"I didn't really know a lot about the cardiovascular disease," Mary Gillan, 20, a junior volleyball player at Chaminade, said. "As an athlete, I felt very informed about the risks on heart disease and what I can do to keep living a healthier lifestyle."
Whether or not someone is an athlete, living a healthy lifestyle is important.
Being in college, students deal with a lot stress. From writing papers to projects and exams, stress can eat away at student's health because not many know how to deal with stress properly. Stress can lead to having heart attacks.
After asking students questions, Student Support Services asked all students and faculty that were wearing red to join in on taking a picture. They had everyone form a heart in honor of the cause.
"It was fun participating in the picture and seeing everyone who wore red," said Martin Moore, 19 a sophomore at Chaminade. "As a guy, I'm glad to have worn red to support women everywhere."
Even though not everyone was able to attend to the event, many still decided to support the cause by still wearing red around campus.
"I'm glad that I was able to show support for women by wearing red today," said Whitney Vivieros, 22 a senior at Chaminade. "Although I didn't go to the event, I thought that it was cool that our school gets involved in things like this and brings awareness to our campus."
For more information on ways to have a healthy heart, check out the American Heart Association website: www.heart.org.
About the Contributor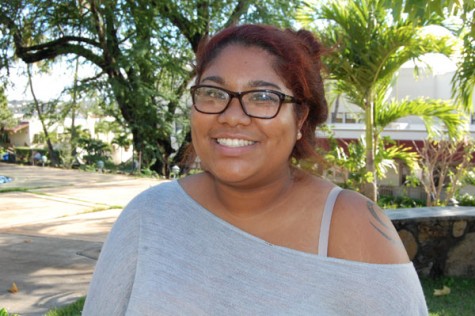 Tawnee Janae Rollerson, Staff Writer
Tawnee Janae Rollerson, a California-born native, is originally from Milpitas, CA. She graduated from Archbishop Mitty High School in San Jose, CA.  Tawnee...