AIDS Walk 'educates,' changes 'your perspective'
Life Foundation, Honolulu's first organization related to AIDS, has been educating people about the disease, conducting free tests for HIV and AIDS, and offering support for those inflicted since the organization began in 1983. On Sunday, April 15, the organization will be hosting the 21st Honolulu AIDS Walk where people can not only show their commitment to prevent AIDS, but raise funds on behalf of the organization for its future projects.
"I've taken part if AIDS Walks before, and each year find it more educational as more information is being discovered," said CUH sophomore Mack Hoover, who is a volunteer for the AIDS Walk. "I took the opportunity to volunteer at the AIDS Walk to not only help the cause but also educate myself. The AIDS Walk is something that is important for everyone to do, no matter how young or old. Honestly, the Hawaii AIDS Walk does a great job of making educating people fun."
About 5,000 walkers are expected show up for this year's walk in Kapiolani Park according to CUH junior Kat Izumi who is an AIDS Walk volunteer and has been volunteering since her freshman year. The goal of the organization, however, is more focused on raising funds rather than raising the number of walkers. Life Foundation looks to exceed $200,000 in donations – a feat it achieved last year.
"It's for an important cause especially if people are sexually active, especially for students" Izumi said. "It's a free event. … There will be information given out. … This is important because most people won't start noticing the signs (of having the disease) until they know they have the disease (through testing)."
Even if the walk has not yet happened, some participants have already started with their fundraising efforts. On the event website, participants are able to sign up as individuals or teams. They have either donated with their own money or have used their resources to find other people to join and donate on behalf of themselves or their teams. As of Monday, April 9, donations are more than halfway to its goal at $93,949.
Companies like McDonald's and Starbucks have also joined the cause by either donating on their own or as part of a team that has enticed them into joining.
"People really want to support a good cause," Izumi said. "… They might have seen it online or on a flyer, or a poster or Facebook. We're looking at 5,000 walkers. If they donate at least $1, we easily get $5,000 just from that."
On Sunday, participants will start walking at 9 a.m. There is no specific attire for the event, so they can come in clothes of their team' choice, according to Izumi. Despite this, they are encouraged to dress in tune of this year's theme, "Toy Story." Those who can come in costume while incorporating the AIDS ribbon get a chance to win prizes.
Aside from the best costume, there will also be prizes for the top three individual fundraisers and top three team fundraisers. The winners will be announced at the end of the event.
"If you haven't come down to the AIDS Walk before, it's something you should do," Hoover said. "It's good for you, it's fun, and you never know, you could learn something that changes your perspective on things."
People interested can go on the event website and sign up or they can go to Kapiolani Park on Sunday and join the walk. Participants who will be riding a car to the event can park for free (through validation) around Waikiki or Kapiolani Community College. There will be a free trolley from KCC to the park for convenience.
Pets are not allowed in the park during the event.
For more information, contact Calvin Marquez at (808) 521-2437, Ext. 250 or email him at [email protected]
About the Contributor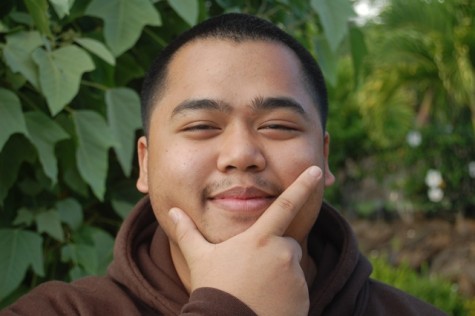 Rudy Vincent C. Juanito, Staff Writer
"Who am I? You sure you want to know? The story of my life is not for the faint of heart. If somebody said it was a happy little tale, if somebody told...