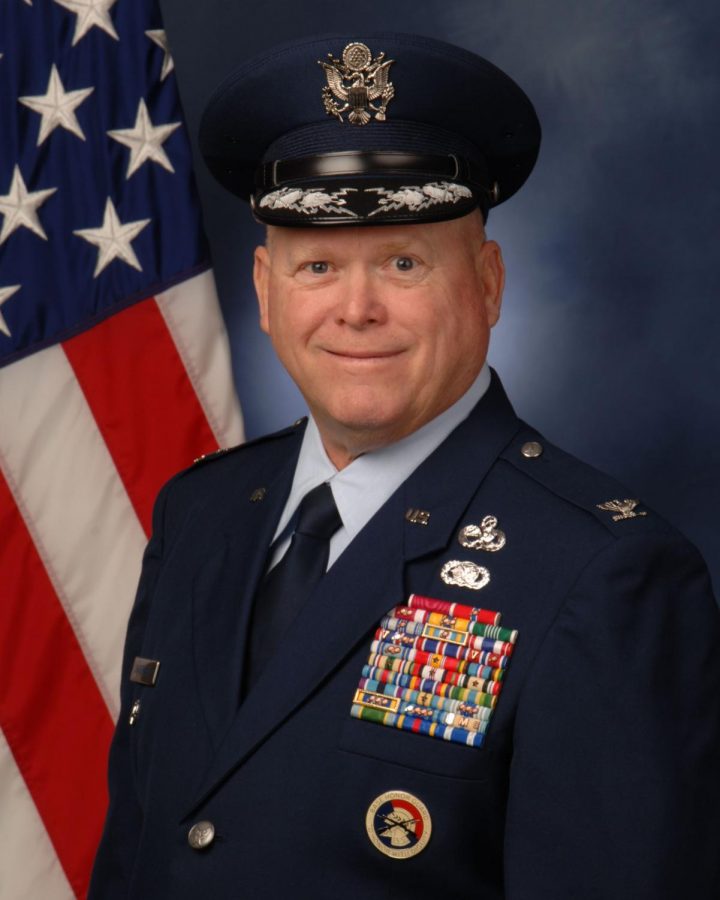 Vietnam Vet to Earn 4th Bachelor's Degree This Fall
November 30, 2018
Many have seen him around campus or perhaps more recently in the Chaminade University of Honolulu Performing Art's Fall play "Spacebar: A Broadway Play by Kyle Sugarman," by Michael Mitnick. However, only a few know actually know his story.
Born in Vicksburg, Miss., in 1949 and raised in Kailua, Oahu, CUH's retired Col. David Cleve Iʻimiʻokapuʻuwai Snakenberg, or "Col. Snake," 70, is set to complete his fourth bachelor's degree from Chaminade this Fall 2018. This time in Criminal Justice.
"I believe in learning for learning sake now that I don't need the education for a career choice or employment advancement," Snakenberg said. "I also like being around young folks as they never cease to amaze me with their technical ability and knowledge. It's like going to college with your grandkids."
He first enrolled at Chaminade in 1968 and graduated in 1972 with a bachelor's in Market Science.
"The student activities are different than 50 years ago," Snakenberg said. "No surprise there. Again, it was the 1960s and we didn't get much done that first semester. We had great rock dances in the pavilion on the ground floor of the old men's dorm, it's now the offices for the [Criminal Justice] department. But the students are as smart, as driven to excel and a friendly bunch."
Over the years Snakenberg has also earned a bachelor's in Western History (1974) and Secondary Education (1975), all from Chaminade. Additionally, he has also earned a master's in Secondary Education from Troy State University (1998) in Alabama and is now known as Troy University.
"I never regretted changing my mind about not going University of Hawaii and coming to Chaminade," Snakenberg said. "I've had excellent professors in all of my disciplines, who always made time to answer my questions and provide guidance, particularly in my youthful days. Availability to your academic instructors is one of the strongest selling points for the university."
Upon completing his first bachelor's in 1972, Snakenberg entered into the Hawaii Air National Guard as an airman in the 154th Consolidated Aircraft Maintenance Squadron. He was also called into the last draft of the Vietnam War that same year at the age of 23 and remained an enlisted member for nine years.
"The draft was a rite of passage for all young men in my generation," said the retired veteran. "My lottery number was 87 and they called through number 95, so it was 'welcome to the military.'"
In addition to serving the Vietnam War, Snakenberg also served substantially in the Cold War with fighter alert missions in Europe and the Pacific, and the First Gulf War. He has also served in places including Turkey, Kuwait, Saudi Arabia, United Arab Emirates, Kyrgyzstan, and Afghanistan, and completed two tours in Iraq before retiring in December 2011.
Furthermore, Snakenberg served 40 years in the U.S. Air Force and the Hawaii Air National Guard as its 154th Wing Vice Commander, and has more than 30 years of experience as an aircraft maintenance officer.
Apart from his service, the retired veteran has led a productive life and career both in and outside of the military. For 16 years, Snakenberg worked as a teacher at two Honolulu schools. He taught seventh grade remedial math and language arts, American history, and physical education at St. Ann School. He also taught religion, Hawaiian history, senior U.S. History honors, and physical education at his high school alma mater Damien Memorial High School, where he was part of Damien's third graduating class.
The retired veteran has also recently performed in his first play alongside other students in the CUH Fall play "Spacebar," in November as the character Mortimer Pip and a cab driver.
"Working with him was really fun," said sophomore Biology major, Ava Dysarz, who also starred as Esmeralda Happenstance in "Spacebar". "At first I didn't really know who he was. I didn't get to know him until he joined the play. Once they finally put him in his role I thought he was really funny because his character required him to swear a lot. I think if they used a younger actor it wouldn't have been as funny."
Director of the play, Bro. Gary Morris, said Snakenberg wanted to wait until he was 70 for the right role to come along to enjoy this new adventure.
Although he is set to graduate this Fall 2018 with his fourth bachelor's degree, perhaps this is not the last that Chaminade will see of Snakenberg.
"I have about four semesters of post 9/11 GI [Bill] benefits," Snakenberg said. "So I'm still deciding what I will work on next, a master's in Criminal Justice or something else totally off topic. Once I'm done with school I hope to do volunteer services, work for the Police Commission, or go back to substitute teaching and teach kids about life."
Snakenberg would like to give a piece of advice to the younger generation of CUH students.
"Enjoy your youth while you have it, but do not do dumb things to endanger it," he said. "You're paying top dollar for your education, so take advantage of your opportunities and pick your professor's brains right down to the core. College will be the very best time of your life. After college, all the pressures of living, getting and holding a career, starting and raising a family and potential health issues will ground you to the everyday reality of life. Remember, the only dumb question is the one you do not ask."