Off the beaten path, ruins of Oahu
Every map of Oahu looks the same, but it's the places off the map that are what make up this very unique island.
There are many off the beaten path attractions that could easily be missed by the average visitor to Hawaii.
First, deep in the heart of Manoa Valley, are neglected run-down buildings such as a theater, animal cages, tall outdoor cages and several buildings that have become a part of nature.
Hike up the stream to come to what looks like a small village long ago, that is overgrown and colored by modern day spray paint. Scenery may still be seen hanging in the theater along with an old destroyed audio board and bleachers.
Those once perky structures were a type of bird attraction, connected to the modern Manoa Valley treetops structure, at the beginning of the trail head to Manoa Falls. They had bird shows and cages and was a park to visitors to view and see Hawaiian birds and learn about Hawaiian culture.
There have been rumors of reopening the park and developing the land to make a small cultural park but permits and residents are persistent to keep it as it is. As of now, the land is off limits and resides nestled in the valley.
When wondering around these grounds you get an uneasy feeling that you are in the middle of an episode of "The Walking Dead." It is a place you would never expect to be so close to heavily developed Manoa Valley.
The next off the road attraction is on the north shore of Oahu off Kamehameha Hwy just past sunset beach. There are abandoned buildings on the right and left of the Highway that tell a story most don't know.
The buildings were once a convalescent home, a boys' industrial school called Waialee. That was built in 1906. According to ghosttowns.com, more than 106 boys who were convicted of charges such as assault or battery resided here in this self-sufficient school.
The school grew pineapple, taro, cattle, pigs and made poi. Waialee later went through a name change in 1930 to Waialee Training School and included a girls' school nearby.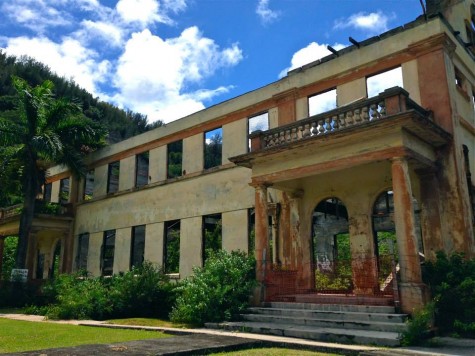 The school closed in 1947 and was moved down to Kailua. One can still drive by today and walk through the historic buildings that have banyan trees growing up the walls and a forest canopy as a roof. One of the buildings has an old jail cell and machinery in the back. What once was a thriving community is once again over come by graffiti and nature, leaving remnants of structure and everything else up to the imagination.
Off the Pali Hwy lies the crumbling structure of the Kaniakapupu ruins, King Kamehameha's summer palace a sacred place that should be respected.
The hike starts off by going through a small opening in a bamboo forest and hopping a few trees and finally leveling out for an easy trek. Once at the ruins you see a large plaque and rocks wrapped in tealeaves with leis draped over the sign in a way of respect for this area. There are a few doorways you may walk through and walls that are still standing despite their age. This layout is very eye opening to help you visualize and imagine what life would be like in the eyes of a king.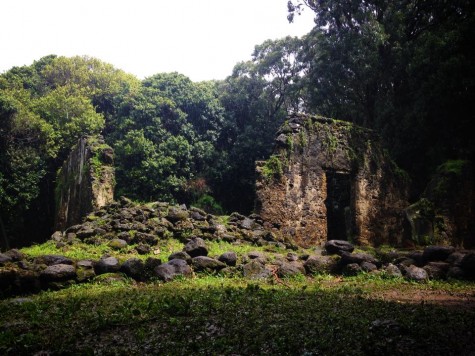 Kualoa Sugar Mill was the first sugar mill built on Oahu in 1863. The 35-foot coral smoke stack still stands tall on the outskirts of the Kualoa Ranch on the windward side. According to hawaiiforvisitors.com, the mill was built by Charles Hastings Judd and Samuel G. Wilder who shipped their steam-powered machinery all the way from Scotland to harvest the rich soil. In 1866 Wilder's son fell into a vat of boiling sugar syrup and died three days later from severe burns.
Not wanting to live there anymore Wilder gave his share of the mill to his partner, Judd. The mill later closed in 1871 from insufficient rainfall making it difficult to grow sugar in that area.