Local handmade gelato is just around the corner
Tucked away on 12th Avenue in the shadow of the always bustling Koa Pancake House is Via Gelato, a chic gelato bar and cafe. Its wide glass windows and Tiffany blue color scheme invite passersby to take a peek.
Upon opening the front doors, guests are greeted with the pleasant aroma of various gelato flavors, freshly brewed coffee and lightly toasted sandwiches. The steady beat of classic rock, ranging from The Beatles to Steppenwolf, creates a cool and cozy ambience that fills the room.  White walls and minimalistic furniture open up the small space. Chalkboard menus and a cork board dedicated to flavor suggestions contribute to Via Gelato's posh aura.
After sampling several flavors, I settled on a heaping cup of "Salted Caramel Fudge Swirl" and "Cookies and Cream." I made myself comfortable along the back wall at a glossy wooden table beneath the overflow of flavor suggestions scrawled on napkins and proceeded to let my spoon sink into the mountain of creamy goodness before me. Handmade with local ingredients, including Hawaii's fresh natural milk, Via Gelato had me scraping the bottom of my cup savoring every last bite.
Although I had planned to buy just one cup of gelato, my taste buds begged for more. Heeding the advice of the helpful cashier, I decided to sample the "Frosted Flakes" flavor. I was pleased to find that "Frosted Flakes" gelato, in all its quirkiness, captured the nostalgic sugary magic hailed by Tony the Tiger himself. The spoon-sized sample left me wanting, so I succumbed and bought a full serving of the cereal-inspired gelato.
The differentiating factor that made my second round of gelato even better than the first was the intricately designed, handmade waffle cone. Its golden-brown perfection complemented the delectably smooth gelato, presenting it in an artful fashion that was almost too pretty to eat. Even as the gelato began to melt, the crunchy cone managed to maintain its crisp form.
Beyond gelato, the soup and sandwich selection provides a savory balance to all of the sweetness. Sandwiches are offered either whole or cut in half with a side of the soup of the day. I chose the latter offer, pairing a balsamic pesto caprese sandwich with a cream of mushroom soup.
Toasted to perfection, my half sandwich was bursting with flavor from its roasted garlic focaccia, mozzarella chunks, tomato, arugula, and of course pesto spread and balsamic vinegar. The soup, served in a mug, exceeded all expectations achieving flavor that I thought to be unobtainable by something as common as cream of mushroom. With each bite, my entire face lit up in delight.
So whether you're looking for a sweet treat on a sunny day or a quiet lunch in a laidback environment, be sure to swing by 12th Avenue or catch the gelato truck as it cruises through Honolulu. Handmade using locally sourced ingredients, Via Gelato creates unique seasonal flavors inspired by customer demand. From black sesame to strawberry haupia swirl, you are sure to find a flavor to satisfy your tastes.
1142 12th Avenue, Honolulu 96816
| | | |
| --- | --- | --- |
| Mon | Closed | |
| Tue | 11:00 am -10:00pm | |
| Wed | 11:00 am -10:00pm | |
| Thu | 11:00 am -10:00pm | |
| Fri | 11:00 am -11:00pm | |
| Sat | 11:00 am -11:00pm | |
| Sun | 11:00 am -10:00pm | |
About the Contributor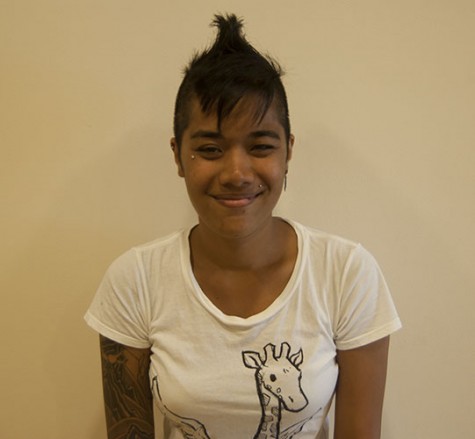 Nadia Fale, Staff Writer
Nadia Fale is a senior pursuing a degree in Communication with a specialization in Integrated Marketing. She was born and raised on the North Shore of...