Raised in Fla., CUH accounting Professor Williamson has found a home
Professor Aaron M. Williamson Jr., comes from humble beginnings. Born in Atlanta, Ga., and raised in South Florida, he knows all about being discriminated against. Although raised to not see color, his memories of his grandmother being ostracized from the black community are very vivid. The black community thought she was trying to be white because she was an interior decorator and she had helped Donald Trump with his properties down in South Florida.
Williamson grew up numb or desensitized to overt racism or discrimination and to combat that was to work hard in everything you do.
"Coming to Hawaii from Tampa Bay, Florida, was a breath of fresh air," said Williamson.
What he saw was a bunch of different colors he knew he could probably fit in with. When he applied for the position of Accounting professor at Chaminade, his color didn't matter. It was about what he brought to the table in accounting. Williamson could of taught math and economics but stuck with the true calling of his heart.
"I don't think I could of worked in another department, the Accounting staff made me feel included," said Williamson.
He's referring to the university's Accounting department's close-knit small community with the Business School's Dean Dr. Scott Schroeder and the camaraderie he has been a part of for the last three years. Williamson has been around the world teaching and has a background as a Certified Public Accountant. Williamson received his undergraduate degree at Florida Agricultural and Mechanical University majoring in Economics with a minor in Mathematics from 1998-2002. Totally unrelated to the job he's doing here at CUH. He chose accounting because it gives him a teaching moments to pause, give a message and teach a lot of different angles where he can teach the whole student.
When he graduated from FAMU, he took a year off to volunteer at AmeriCorps Citi year in Detroit, Michigan with under privileged inner city youth in helping clean the city and provide programs for them.
He received his graduate degree in accounting at the University of Baltimore from 2004-2007. In between time he taught accounting at a community college in Tampa Bay, Florida, and worked at one of the biggest International Accounting firm with KPMG.
Williamson knows the meaning of working hard and quite frankly has experienced some stereotypes in field of accounting. Coming to CUH and being a professor in accounting who happens to be black, certain characteristics were expected. Especially, him being a young Black male, he carried the world of Black culture on his shoulders according to them. Instead his favorite music is blue grass not hip-hop he said with a smile.
"People are surprised not because of the color of my skin, but accounting at big firms like KPMG has 1 percent of the entire organization made up of black folks," said Williamson.
Williamson looks up and reflects that most people are astonished that he's not only an accountant but he has CPA credentials as well.
In a world where too much is focused on color rather than a person's background and experience, he knew he had a lot to offer CUH. Coming from KPMG, it was crazy and everyday there was so much pressure. When a person leaves public accounting, they're sensitive to pressure and they do not like it. Williamson states, he can handle his own pressure but despise others trying to oppose pressure on him. He elaborates why he chose CUH over Hawaii Pacific University and the University of Hawaii.
"I chose CUH because big issues you deal with at bigger universities you won't deal with at a faith-based smaller university," said Williamson.
He wanted to target students that chose a university and he wanted to choose a university because they chose it. When he met with Dr. Scott Schroader, the Dean for the School of Business and Professor Richard Kido he was sold.
They were so welcoming and encouraging he was like, "Wow," I need that support. CUH gave him the space to develop, perform, and encourage his own students. It was a perfect unspoken agreement that they would help Williamson develop, Williamson would help them develop and together they would all develop together in helping students in the accounting field.
It was a perfect fit for Williamson he felt at home and didn't feel any type of underlining racism. That's when he knew CUH was the place for him to grow.
Although, accounting is Biblically base with taxation, there are more lessons to be learned upon leaving Williamson's classroom.
Darnell Fenderson, a junior from Cleveland, Ohio, is majoring in Business Administration reflects on Williamson as a professor.
"He's a great professor, he pushes his students and doesn't believe in making the work easier," said Fenderson.
He continues to say that Williamson puts in as much work outside the classroom as he does inside the classroom.
"More than anything, more than the discipline of accounting, I want my students to be better people," said Williamson.
Anything man made can be broken; he encourages them to go out there and be the best they can in whatever they're doing.
"The goal is to be a positive impact on society in some way significantly for our future," said Williamson.
About the Contributor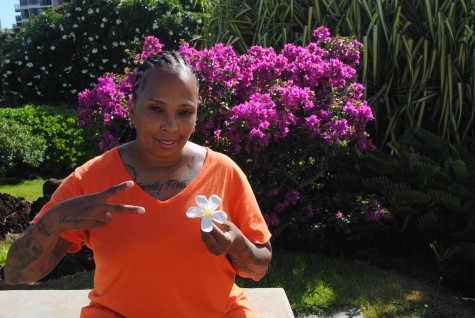 T.O. Turner, Staff Writer
T.O. Turner is from Boston, Mass., and is a senior at Chaminade University studying Communication/Broadcasting.  In her spare time, she likes to go shopping...