Ambitious musician strives to reach for his dreams
The atmosphere started to fill with screams of fans and the air became humid from the amount of bodies that crowed the grounds of the concert room. It was Bryson Gushi's first big show, and what made it more nerve-racking was the fact that Gushi's band, Anygivenchance, was opening up for the popular band, All Time Low. As people started to enter the building, Gushi started to feel the heat and sweat drip down his face.
"It was a sold-out show, which made me even more nervous," Gushi said. "But as soon as we got on stage, all of it went away and I just gave it everything. I had to put on the best show I could. It was a rush."
As he stood backstage, with bass guitar in hand, his stomach started to turn as the nervousness started to take control of his body. Since his band was opening up, All Time Low, The Republik, the facility where the concert was held, were covered with teenagers, their parents and young adults. The MC announced Gushi's band and as he stepped on the stage, he saw a few familiar faces. Tasha Reichard, Gushi's friend from high school and mutual friend, Brittney Rice, showed their support as Gushi prepared himself for the big show.
"He looked really happy, you can just tell in his eyeballs that he was just so happy," Rice said. "It was so cute because he wanted to take a picture of the whole audience because he said it was the greatest feeling ever."
Gushi, 24, doesn't fall under the typical stereotypes of a punk-rock star. Although he fits the looks of a punk rock star, tattoos embedded all over his body and gauged earlobes, in person he comes off as a quiet teddy bear.
For many people, music provides comfort or use music to express their feelings but for Gushi, music means so much more than that. Gushi suffers from both, attention deficit disorder (ADD) and Tourrette's. He also has social anxiety issues, so music has been his been his escape throughout his entire life. Music has allows him to calm down and gives him something to focus on.
"In cases where I'm feeling nervous and feel like I'm about to panic, music has always been a great tool to use in calming myself down," said Gushi from Ewa Beach. "It's also definitely a medium I love using to express myself because I'm mostly an awkward and shy guy. But when I'm playing music and singing, for some reason that goes away. It just makes it so much easier for me to express myself."
Music has always been a big part of Gushi's life. At the age of seven he started off playing the piano. He was influenced by his grandpa, dad and cousin who have helped to inspire him by providing Gushi with musical equipment and took time to help him improve his musical skills. As he grew up, he became inspired to play punk music through bands such as My Chemical Romance, Story Of the Year and Fall Out Boy. The biggest band that has influenced Gushi and the rest of his band, not only through music but how the band acts, has been Blink-182.
Their band, Anygivenchance, consists of three members, Chris Bolosan, 24, Zach Manzano, 27, and Gushi himself as the bass player. Gushi joined the band back in February when the band's former bass player decided to leave the group. Since then, the guys have been inseparable.
"We all just click so well together," Gushi said. "We're not even friends anymore, more like brothers, and that's what makes being in a band with them even more of a blast."
The group writes their own songs such as, Sunsets, that stick to a pop-punk sound. Gushi said their music is upbeat that it gets people excited and pumped up.
"It's kind of hard to not get all hyped up and move and jump around," he said.
The band will be having a few upcoming shows that fans can look forward to this month. On Apr. 20, they will be performing live at Hawaiian Brian's, and on Apr. 26 they will be playing at Rivals in Waikiki.
For Gushi, music will always remain a part of his life. He hopes that one day the band will be able to get a record deal because that was his dream since he was young. Currently working at Sports Authority, Gushi hopes to ditch his day job and start his own clothing company and inspire young musicians. Fans can check out their music on their website.
"I honestly love that feeling, that rush of being in front of everyone and giving it my all," Gushi said. "You really can't top that feeling. No matter if we're playing in front of five people or 500, I still love it. Even if there's no one cheering I'm sure I'd still love it because I'm up there with my friends having a good time and playing the music that we love."
About the Contributor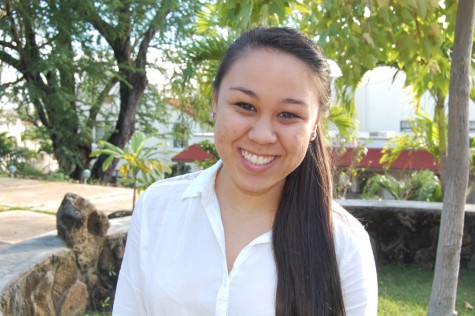 Victoria Barayuga, Staff Writer
Victoria Barayuga, born and raised on Oahu, currently studies at Chaminade University and is majoring in Communications Marketing. If she's not working,...