National Band Director, Michael Nakasone, draws a crowd to Punahou School
Punahou School's band has been putting on an Academy Winter Concert for at least 30 years. The winter concert consists of a weeks worth of various performances such as the wind ensemble, the symphony orchestra, concert bands, a chorale and jazz band. All programs provide a unique flavor and approach, as well as many benefits for the audience.
The most recent Academy Winter Concert drew a crowd of approximately seven hundred to Dillingham Hall at 7:00 p.m. on November 30. The line began forming at 6:00 p.m. and wrapped around one side of Dillingham Hall where many waited anxiously to see their children, fellow class mates, and the notable director of the first act, Michael Nakasone, who opened with the Wind Ensemble  performance.
"I have known Mr. Nakasone since 2005," said a donor who asked to remain anonymous. "He brought my music back when I had to retire, so I am donating $100,000 to Nakasone as a legacy."
It requires a talented professional to make this mere winter concert into a sweeping notion. However, coming off serving as the Royal Hawaiian Band Bandmaster from 2005-2010, a 26-year career as director of the Pearl City High School Band, and as one of the 10 best band directors in the nation, Nakasone was more than qualified for this position.
"My favorite part of the performance was when the first group played Mozart #40 in G Minor and the conductor turned around and had the crowd start clapping along with the song," said Chelsea Twemlow, 18, a freshman at Chaminade. "The concert was very well put together and was more like a professional concert that a person would pay to see."
As one of the newest additions to the Punahou staff and musical operations, Nakasone, was requested earlier this year to take part in what is considered the most notable part of this event, the Wind Ensemble.
Although this was his first year conducting at Punahou, Nakasone still managed to bring a crowd with his charismatic qualities to the opening performance.
"He really makes it about the audience," said Sean Rodan, 17, a senior at Punahou and principal flutist for the Wind Ensemble. "He chooses songs the audience knows and takes into account what they want to see."
Under such a renowned conductor the Wind Ensemble students are required to attend rehearsals through the semester, and every day for two weeks leading up to the final Academy Winter concert performance. After its debut, the ensemble then travels around the island performing at the Kahala, Windward and Ala Moana shopping centers over the course of December.
"He is a big name and it has been a very different experience in transitioning," Rodan said. "Going into a career of music in the future, I have come to find it really is a communal effort."
The concert requires no fee and is run by the high school for the sole purpose of entertaining. This event has become a tradition to many in the community who attend this event and offers a great approach toward getting into the holiday spirit.
For more information about times and location of the Punahou School Band, please visit http://punahouband.wordpress.com/

Hang on for a minute...we're trying to find some more stories you might like.
About the Writer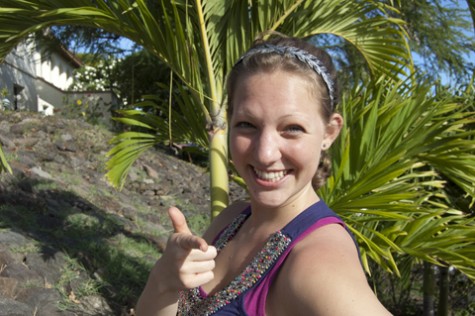 SM Webster, Staff Writer
A senior student attending Chaminade University, SarahMarie Webster, is a Mass Media-Communication Major.  She was the VP of Communications for the Chaminade...