An Ono Place To Eat
***** (5 out of 5)
Willu Diaz, a chef who is only 28, has worked as an executive chef at restaurants that have "gone under" and learned from those experiences what not to do. Not only was he an executive chef at restaurants that went under, but also at well known restaurants like Ocean House, Chef de Cuisine Il Lupino and a sous chef at Aria.
Now, he has opened A Place To Eat on University Avenue.
Diaz decided to open his own restaurant and establish himself early. He wanted to open a place to eat because he wanted to "cook without restrictions," which is what all chefs want.
A Place To Eat opened on September 3rd of this year. The reason for the restaurant name is because he wanted to represent himself humbly and as a marketing standpoint he thought the name was "clever."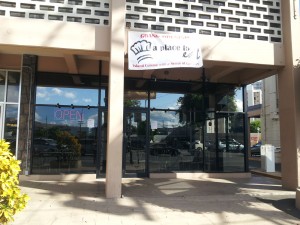 When looking for a place to put the restaurant, Diaz finally decided on a prime spot on University near Varsity. He sought out a certain demographic where the residents had dispensable income. He also liked the fact that the location was off the outskirts of Waikiki.
At first glance of the restaurant, one would not expect much. However, the surprisingly spacious interior has no television but has music playing in the background, just to add to the ambiance. While talking to Diaz, he said that he purposely did not install a television because he doesn't want people to come just to hang out there like a café or McDonald's, which he calls "anti-camping."
Even though the menu is small it has enough variety to suit anyone's taste. Also keep an open mind because the menu has an American flavor with and Asian twist to it.
The tangy sweet sour ($12), which is pork baby back ribs, was delicious because of the sauce and slaw. The blue New Yorker ($12), which is a steak cut on the bottom pupu style and cooked with blue cheese, is delicious. What people don't know is that there is a trick to eating this. The bottom of the steak is pre-cut for you (pupu style), so what you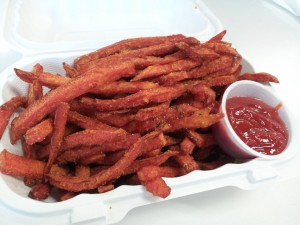 see is just for presentation, you would have to flip it over and then eat it.
The sweet potato fries ($7) they were the best sweet potato fries I've ever had. They're not too sweet and really crispy, and doesn't have much oil on it either. The homemade Hawaiian chili ketchup it comes with makes a great contrast of flavors with sweet fries and spicy sauce.
Everything in the restaurant was made in house. He personally cuts the fries and makes the ketchup daily. It's homemade with his own recipe for the ketchup and chili water. Diaz is not a big fan of sweet potato fries himself, so he made the chili ketchup so that he could eat it.
Not only does Diaz make everything in house, he also serves organic and locally grown products. Not everything is organic, just certain items like the wok fried soba and plate salad
When you receive your food, it is bought to you in a takeout container, which would have you expecting the worst. However, once you open the container, it looks like the food came from a fine-dining restaurant.
This was of course another tactic Diaz, "under promise, over deliver." Have people expect nothing special, and surprise them with a meal that is beyond expectations.
As for the portions, Diaz strategically figured out the meat to rice ratio. Due to the fact that at restaurant he previously worked at, he noticed that the main item that was being thrown away was rice. So now he is trying to prevent the waste of food by putting the right amount a person should consume.
The price of the menu is very reasonable for what is offered. Main dishes vary from $10 to $12 and sides/alternatives are $7. Be sure to mention the online promotion, it says for UH students but it applies for Chaminade as well. If you show your CUH ID, you get a free alternative/side when you buy and entrée.
1035 University Ave. Suite 104
Monday to Friday
11 a.m. to 12 a.m.
808-941-4554
About the Contributor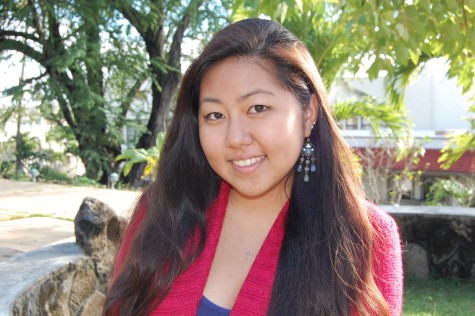 Keri Lynne, Staff Writer
Keri is a Communications Broadcasting major and an Environmental Studies minor. She works as a reservationist at Hawaiian Parasail, where she spends all...