Review: 'We Got it from Here… Thank You 4 Your Service:' A Perfect Conclusion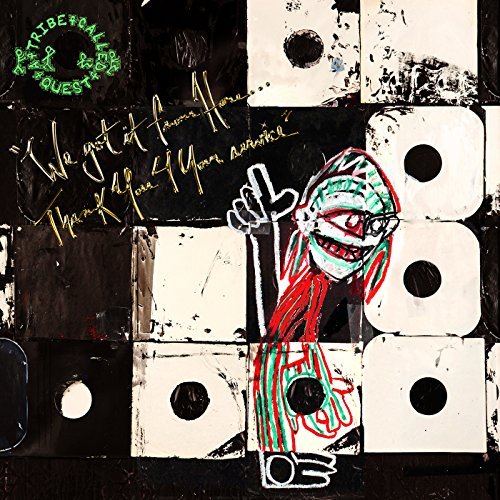 I first heard about A Tribe Called Quest during my freshman year in high school from one of my good friends who had found out about Tribe through his older brother. Ever since then I have been a huge fan. Albums like "The Low End Theory" and "Midnight Marauders" changed my perspective of what rap music could sound like and from that moment on I was hooked.
I appreciated the jazzy, unique samples that Tribe used, and the boom-bap production that gave off a lively, upbeat, energetic sound to their music. In addition to this, A Tribe Called Quest also brought up many topics such as racism, philosophy, and many other social issues in their music. The Tribe has definitely secured their place as pioneers of the conscious hip-hop movement.
When I heard about this new Tribe album, "We Got it from Here … Thank You 4 Your Service," I was a little hesitant to first give it a listen, as comeback albums aren't always the greatest, and I didn't want to get my hopes up especially if they weren't able to put out something that was up to par with their past projects. However with the recent passing of renowned emcee, Phife Dawg (may he rest in beats), I felt that this album would be great regardless, as it represented the reuniting of one of the greatest hip-hop collectives of all time. A Tribe Called Quest also got some solid features on this album such as Kendrick Lamar, Andre 3000, Busta Rhymes, Consequence, Talib Kweli, and Anderson .Paak. They also got features from renowned musician Elton John and Jack White from The White Stripes.
"We Got it from Here… Thank You 4 Your Service" is a two-disc, 16-track album that weighs in at a little over an hour of playtime. It was released on Novermber 11, which was the same day as Veterans Day (possibly the album title was a tribute to our veterans?). Jarobi has expressed in an interview with NPR that this will be the last album that they will put out as A Tribe Called Quest, as Phife Dawg is no longer with us.
When I first listened to the album, I fell in love with it right away, it sounded like classic Tribe, but they were able to update their formulas and make music that resonated with current times and events. I appreciated this, as some other artists feel like they need to compromise their sound and vision in order to keep up with modern times.
Immediately, the track "We The People …" resonated and struck a chord with me. This is the second track on the album. The track starts off with an amazing verse from Q-Tip, and he also delivers a hook that is relevant to modern times and the racism in our country. The second verse was one from Phife Dawg, and when I heard him spitting, I actually got a little emotional. It made me sad that a legend had passed and that someone I grew up admiring was dead. However, hearing him on this track brought back some nostalgia and made me excited to here the new Phife Dawg album coming out in early 2017 that was recorded before his death. After I heard this track I knew that the rest of the album had already secured its place as a future classic.
The next track that really hit me was "Solid Wall of Sound" which was the third track on the album. I really enjoyed the mixing on this track. I also enjoyed Elton John on the keys and Jack White on the guitar. This track was unique, and I feel that they delivered a solid track.
"Kids …" was another great track from this album. I appreciated the production on this track. It reminds me of something Pharrell Williams would have produced in the early 2000s. Andree 3000 also delivers a hot verse, and the hook on this track constantly gets stuck in my head. This track illustrates the current state of the youth and the struggles that we face, and even though I can't relate to all of these struggles that are highlighted on this track, it definitely hit home.
"Mobius" was one of my favorites from this album. It features verses from Consequence and Busta Rhymes, and both brought their A-game on this track. Although they don't bring too much conscious lyrical content to the track, I enjoyed their flows.
"The Killing Season" was another one of my favorite tracks. It features verses from Talib Kweli and Consequence. Kanye West is on the hook of this track. This track deals with racism and the unjustified police killings of black men in America. This track gets pretty deep, and even after a few listens and reading through the lyrics I feel that there is so much more that I can uncover in this track. I really also really liked the bass line on this particular song.
The next track that had a significant impact on me was "Lost Somebody". As a tribute to the late Phife Dawg, both Q-Tip and Jarobi pay their respects to their deceased friend and comrade. This song has an abrupt ending and there is a moment of silence followed by a guitar solo by Jack White.
Kendrick Lamar came through with a solid verse on the song, "Conrad Tokyo". This track deals with the current economics and politics in our country, and how there is division among the people. Phife Dawg also had a solid verse on this track, as he discussed the corruption in politics and how the media tends to avoid the real issues. The title of this track refers to Conrad Tokyo, which is a five-star hotel in Japan. This reference is the Tribe's way of explaining our current economy, where the rich benefit from the system, while the poor continue to struggle.
The final track that I enjoyed was "Ego". This song deals with the concept of the ego, how it can hurt us and negatively impact the way we act and treat others, but also shows us that sometimes the ego can be a positive thing and can be necessary in some situations. I also really enjoyed Jack White's guitar work on this track and the beat switch-ups in this song.
"We Got It from Here… Thank You 4 Your Service" is a well-thought out, well-executed album. It was a great way of celebrating and remembering Phife Dawg, while still delivering introspective and deep content. The instrumentals and mixing on this album really brought it to life, and gave off a certain energy that the 808 drums that many producers use today cannot replicate. Although this isn't my favorite Tribe album (at least for now), it was a great way for the collective to put an end to this chapter of the legacy known as A Tribe Called Quest.