Top 10: Best reasons to come to Chaminade University
Although Chaminade University doesn't have a football team, or the Greek pledges for fraternities/sororities or many other luxuries that most big urban universities offer, Chaminade has its own unique advantages and will draw many students who want to live in a tropical setting.
1. Tropical location: Hawaii has an abundance of outdoor activities and an average temperature of 77 degrees year round. With the warm breeze, rainforest waterfalls, and many hiking trails, Hawaii has it all.
2. The small class sizes provide an intimate relationship with classmates and professors. A small class size gives students a deeper connection to their class work and provides a great atmosphere for personal growth.
3. EA Sports Maui Invitational Tournament is a premier men's college basketball tournament that is hosted by our very own Chaminade University Silverswords. It's a way for our program to compete against elite teams from the mainland in men's college basketball. Our student- athletes can have fun in the sun, venture to another Hawaiian island and off against Division I teams on national television.
4. Four-year graduation guarantee: A student has to maintain a GPA of 2.0, declare a major and complete all required course work. If a student follows the four-year plan and doesn't graduate on time, Chaminade will pay the remaining course work at no cost to the student. This is a great opportunity for students to accomplish their academic and educational goals.
5. Marianist culture: Chaminade University is a part of the Roman Catholic Church and its curriculum spreads forth the values of the Marianist culture. The brothers and sisters of this religion are very present in this active campus ministry. Being a student at Chaminade and taking part in the Marianist community will help develop character and integrity. The values we gain will be applied to everyday life once we leave Chaminade.
6. Hawaiian culture: A student at Chaminade will experience the vast culture, customs, and traditions of the Native Hawaiian through events and lectures. Students will learn that the Native Hawaiian is of Polynesian descent who have arrived and settled in Hawaii. Hawaii is the 50th state and the only state that is made up entirely of islands. Hawaii is the only state to have had an active palace and a royal family.
7. Diversity: Chaminade is a university that students and cultural experiences come together. The experiences compose of different ethnic backgrounds from Asia (37 percent), blacks (3 percent), whites (16 percent) and native Polynesians (15 percent). The student body put on two cultural displays of diversity in the Pacific Island Review and the Extravaganza throughout the school year. It's a great place for an international gathering, to have fun and to learn someone else's country history.
8. Campus beauty: The picturesque views of Diamond Head, the city's skyline and the assortment of Hawaiian flowers in full bloom are a sight to see.  The campus is well lit at night, and 24-hour security on campus makes it easy to enjoy the warm summer nights. The campus is location in a small urban setting and is easy to get from class to class.
9. TheBus Pass: Chaminade offers a bus pass to all full-time students during the school year. The island is small enough where you can go around the whole island in 3-4 hours free of charge. There is a bus stop right outside the gate, and you can take more than one bus line to get back to school.
10. Affordable: Chaminade's yearly cost of tuition is $ 20,810. With the help of grants, financial aid, and scholarships, the institution is very affordable. It offers world experiences with nature, people, community service and service learning. Chaminade offers a lot of options you would want in an education.
About the Contributor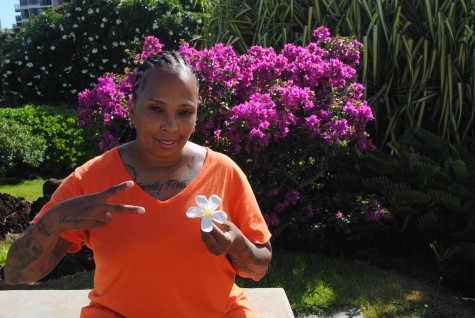 T.O. Turner, Staff Writer
T.O. Turner is from Boston, Mass., and is a senior at Chaminade University studying Communication/Broadcasting.  In her spare time, she likes to go shopping...