Going to London
Living in another country for the first time is terrifying, especially for someone who has lived on a small island all her life. Despite the insecurities and fears of being away from home, I'm ecstatic to study abroad in London next semester. With the semester quickly coming to an end, the reality of going to London is slowly starting to sink in.
The United Kingdom is foreign territory to me. The closet I've ever been to the UK was Hong Kong, but Hong Kong is no longer its territory. With only three to four months in London, I've compiled a list of the top places I want to visit with the limited amount of time I have.
Harry Potter Muggle Tour
Listed as the Time Out Critics Choice, this tour is a Harry Potter fan dream come true. The tour explores filming locations and the inspirations of the books. I've watched the Harry Potter movies, so the idea of visiting the location is exciting. Not only do they talk about Harry Potter, the guides weave in historical facts.
Richmond Park
This park is near Roehampton College. It's a huge park that may require the whole day to explore. This park has deer in it and looks like a fun place to explore. The size of the park will require shoes, and it would be preferable to bring a camera.
London Zoo
The zoo is always an enjoyable place to visit. The London Zoo has more than 750 species of animals, which are way more animals than the Honolulu Zoo. It's cheaper to go during mid-season, which means I should go before September ends.
Holland Park
The pictures I've seen of this park is beautiful, and within the park is a Japanese garden. A giant chessboard can be found in Holland Park.
Cemetery behind Chelsea Stadium
The professor overseeing the Chaminade Silversword recommended a cemetery visit because the tombstones there are cool. Before going, bring salt. Also, be sure to throw some before leaving so a ghost won't cling on.
221B Baker Street: Sherlock Holmes Museum
One name: Sherlock Holmes.
Buckingham Palace
The queen lives in this palace and it's accessible. Who wouldn't want to visit the royal residency? It's best to go early because it is open is from Aug. 3 to Sept. 29.
Science Museum
This museum is free and has a lot of attractions to see. It's featured in London for Kids in tripadvisor.co.uk. If the museum can entertain kids, it can certainly pique the interest of an adult.
Wax Museum
After visiting the New York wax museum, it's a must to go to London's one. The wax museum is one of the most entertaining place on earth. It's amazing how some wax figures look so like to the real person. With so many celebrity figures, it's a ball to take pictures with.
Chinatown
Living in a Chinatown, it's a must to visit another one. During the visit, I can pick up a pound of rice or fulfill a Chinese food craving. In addition, near the Chinatown is a red-light district.
But London is not just a city to see all these great sites. It is a ginormous place compared to Hawaii, and it's on a completely different continent. These factors alone make it nerve wracking. I have my insecurities because this city is fast paced, unlike Hawaii, and adjusting to a different kind of life may take a while, although hopefully, the transition goes through smoothly and quickly.
A part of the immersion to a new country and culture is the language. Although British people speak English, they have their own accents, slangs, sayings and terms that differ from those in America. Hopefully, mistakes won't be made when asking for "chips" (fries) and "crisp" (chips). The loo is an easy term to remember, but hopefully the need for a "torch" (flashlight) won't pop up.
The biggest fear in going to London is making friends and food. It's always scary to be in a new environment and to not know anyone, especially since the study abroad program is through another college. I didn't know anyone during my mandatory meeting at the University of Hawaii at Manoa. I was also the only non-UH student there. When going to Roehampton University, it will be going to a college all over again, but with a few twist. No familiar faces and being placed in the middle of a city I've never been to; it's like being thrown into a pit of lions.
Speaking of food, unlike the other University of Hawaii's study abroad students who have host families, people who are going to London will be staying in dorms. In other words, I'm on my own and living in a single room. Food is a top fear. Not knowing how to cook and being thrown into another country is intimidating. Hopefully, a flatmate will know how to cook, or I'll learn during the summer and when I'm there.
All this talk about fears and excitement makes September worth waiting for. Finals are coming up next week and right after that is summer. Unfortunately, before I leave, I need to go out and hang out with friends. If I hole up in my room to watch my TV series the whole time, some people will get mad.
About the Contributor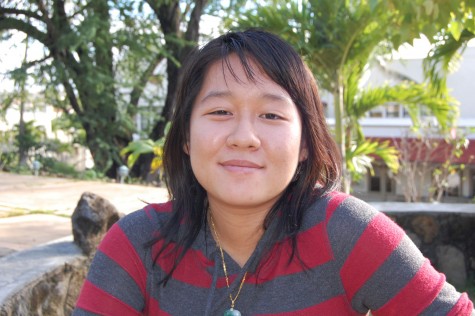 Jasmine Cho, Staff Writer
Jasmine Cho graduated from President William McKinley High School. She is currently a sophomore at Chaminade University of Honolulu and is majoring in...