Top 10: Must-have college apps
With homework and exams coming at us from left and right, college can get pretty stressful. Here are some  handy apps you can download onto your Smartphone to make college living a little easier.
 10. Photo Cookbook
Although this would be the only app you would have to pay for on this Top 10 list, this is probably the most appealing to students who are on a tight budget but want something good to eat. Instead of going to a fast-food joint every night or if you're getting tired of the café food, use this cookbook app and try something new. There are more than 100 recipes to choose from and a picture for every recipe. This app is a step-by-step guide to create the perfect meal without spending too much money. Guys can use this app when they want to impress a lady they are interested in, or ladies, you can use this app to show your men that you are of wifey status. The app costs $3.99, but it will allow you to become your own personal chef without the professional cost.
 9. Stumbleupon
When all the homework is finally done with and the brain has been tired out by hours of studying, Stumbleupon is a fun app to have when all the hard work is done. This app allows users to stumble upon pages and links that fit their interest. For example, if you like fashion and quizzes and horoscopes, Stumbleupon will show you some do it yourself outfits and have you take quizzes on what type of wine you would fine most appealing. Students can spend hours on Stumbleupon because the fun never stops. When a page gets boring, simply click the Stumble button and something new of your interest will appear on the screen. It's a great app to look at when boredom strikes.
 8. Groupon
Groupon has some the best deals on anything and everything. Users can find themselves coupons that will help them to save on an upcoming grocery visit to replenish their dorm fridge or discounts on surfing lessons. People can chose to find deals on restaurants nearby or discounts on a vacation they plan to take in the future. College is expensive, so why not download an app that will help you to save money and lessen the money spending. Become an extreme Grouponer and save more money than you ever thought possible. You can also try the Hawaii Hot Deals app.
 7. Bump
Bump is an app that makes sharing files as easy as a fist bump. Users are able to share pictures, or notes from class to other friends who have the app. Simply hold the phones side by side and gently tap them against one another. The file is then automatically transferred over. It's an interactive type of Bluetooth.
 6. Pandora
Stressful times call for relaxing measures. Music is one way to find comfort during the times when school becomes too much to handle. Pandora is great at capturing stations that will play songs to your liking, whether you're a heavy metal fan or into classical music, Pandora has it all.
 5. Waze
For those students who have to commute to school, this app is a must have. It allows them to see if there are any accidents on the road before they leave their house. Other Waze app users control Waze by posting what they see on the road such as an accident or where cops are posted. It tells you if there are any objects on the road or if there is a traffic jam near the destinaiton. It also tells you the speed of the cars that are taking a route. This app is great for those who live far from school because it allows them to look up and take an alternate route so they can make it to class on time. The more miles you travel the more you are able to share any traffic disruptions that you see on the road.
 4. Shazam
Hanging out with friends and they happen to be listening to a song you like? Shazam it. Shazam is an app that allows people to find out the name of a song within seconds. Just place the phone near the speakers, push the Shazam button, wait a few seconds, and the name of the song and artist will appear on the phone screen. The app also gives the user the option to look at the lyrics, watch the music video or share the song with other friends through social media. It even saves previous songs that you've Shazamed, that way it can download in the future.
 3. Wi-Fi Finder
There are a lot of Internet dead zones lurking around the campus. With the Wi-Fi Finder app, you will be able to locate some of the nearest Wi-Fi hotspots around your current location. It also tells you whether you would have to pay in order to use the locations Wi-Fi or if it's free before you even get there. This app is also great during those long exam nights after the library closes. Use it to locate a 24-hour coffee shop or small restaurant that you can study and use the Internet. If you don't know how to get there, that is not a problem. The app gives you the options of linking the address to your GPS with the simple touch of the "directions" button. It's a free app that you can't regret once you download it. It is useful anywhere and everywhere.
 2. Instagram
This popular app is a fun way of connecting with collogues by sharing pictures. Capture your favorite memories with friends and post them. You can snap a picture of your favorite thing to eat at your local restaurant and add your location that way others can try that place.
 1. Facebook
Unless you have a classmate's number, Facebook is probably one of the easiest ways to get in contact with your peers. If you are having trouble with an assignment and your professors aren't emailing you back as soon as you want them to, Facebook message a classmate and get some help rather than just blowing off the assignment. Having this app is also handy on the days when you miss a class.
All apps are free except for Photo Cookbook, so go ahead and download some now and make college life a little easier.
About the Contributor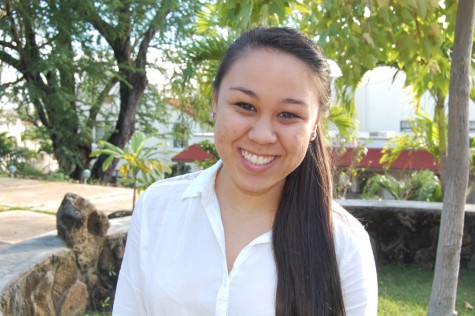 Victoria Barayuga, Staff Writer
Victoria Barayuga, born and raised on Oahu, currently studies at Chaminade University and is majoring in Communications Marketing. If she's not working,...