Finally feeling at home in Hawaii
I cannot believe that this is my last year at Chaminade, studying and playing college basketball. It is hard for me when I first got to Chaminade, coming from Mali, in West Africa.  I remember when I first came to the United States not speaking any English. I went to Patterson Prep School in North Carolina.  I was there for a year and a half playing basketball and learning English. My team was ranked number one in the nation before we went to the playoff.  Unfortunately, we lost the first game because half of my teammates got kicked off the team because they were stealing stuffs from the school.  After that I took the SAT test and passed with a high score and decided to come to Chaminade University.
When I came to Chaminade University it was a shock for many different reasons. After spending a year and a half in North Carolina's cold weather, Hawaii's climate was just what I was used to. It's hot and I love it. The weather is just like back in Mali because it's hot all the time. Although in Mali it gets hotter than Hawaii, the temperature can climb to over 100 degrees. I'm used to the heat and I was happy when I got to Hawaii.
I'm a Muslim and I practice Islam. It was hard when there is no one in your religion to help you, and be with you. But at the beginning of my second year I found a mosque our place for worship and being in that community has helped me feel more comfortable. Food wise, I really enjoyed the food here. I like it because back home we ate the same kind of food we eat here. Rice meat chicken burgers macaroni salad.
I've enjoyed being here in Hawaii. The only difficult time I had was studying, when I got here my English wasn't that good I had to talk to my teacher every time after class. My GPA was down and I almost had to be on probation for basketball.  I thought I was going to give up. I talked to my mom and sister and told them it was too hard and I don't think I can make it. They gave me a lot of advice to stay focused and to study harder. They told me I could make it if I did whatever it took to make it work and that they would be there for me.
That's why I have so much respect for my family. They motivated me so that I can refocus on my basketball and studying. I took advantage of tutoring, and it helped me on my homework and explained to me what I did not understand in the classroom. Now I'm getting goods grads and high GPA.
I'm really happy that this is my last year and still don't believe that I made it work. I can't wait for my last season of basketball to start. We have new players and we are going to be good this year. Hopefully we will win our PacWest Conference to go to regionals like we did in my sophomore year. That year we won the conference and went to regionals then we lost on the first game against Dixie State but hopefully we are going to win all of the games this year and make a memorable last season for me.
About the Contributor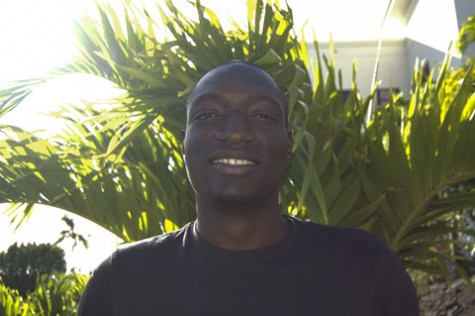 Waly Coulibaly, Staff Writer
Waly Coulibaly is a senior majoring in Communication Marketing and one day hopes to become professional basketball player and then maybe be a coach for...