Important homestand slipping away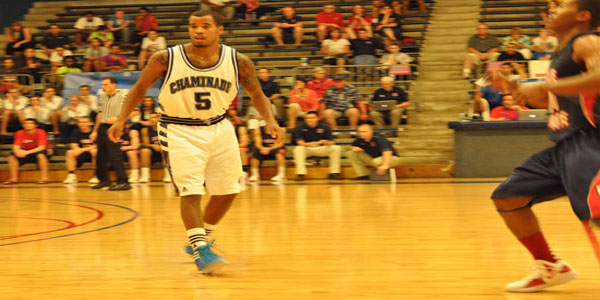 The most important homestand this season for the Chaminade Silverswords started with a win against Grand Canyon on Mon., Jan. 30, but it started to hit a bump when the Silverswords faced rival Dixie State College on Wed., Feb. 1.
The players were excited for the six-game homestand. For them it meant home-court advantage against some of their biggest rivals and having the support of their constituents. Playing six games in the comfort of the gym they practice in might provide an enormous advantage for the Swords.
In their first homestand of the semester the Silverswords tried their hardest to stay on the heels of the Red Storm, but the efforts fell short on both ends. Chaminade's offense failed to put numbers on the board that would make a difference. The attempts of second shots and rebounds made by the Swords failed terribly.
"They had a game plan . . . they played almost mistake free," said Lee Bailey, a point guard for the Silverswords.
In their first home game from the road trip that ended 2-1, the Silverswords defeated Grand Canyon 69-66 in overtime. Individuals in the crowd roared and got on their feet to will the Swords to victory. The players clapped and as the fans stood to give them that extra energy they needed for the win. The fans hoped that energy would help the team as they returned to the McCabe Gym on February 1.
"We had really good team effort, felt we should cut down on turnovers," said center Matthew Cousins.
As the first half of the game was coming down to an end the Swords wore a look of worry. Ending the half trailing 39-29, the Swords headed to the locker room with their heads hung, tension in the room enveloped everyone that had hoped for the team. The score at the half was in part a result of the errors made by the Swords, not being able to reduce the number of turnovers and increasing the number offensive and defensive rebounds.
"We've been playing the same game . . . they had a good game plan," Bailey said. "We felt good coming off the road trip; we had a good break and got our legs back."
With four games left in this stand it is important that the team finishes with four wins in the next four home games to advance in the conference. The Silverswords are currently at fourth place in the Pac-West Conference (9-7 overall, 7-2 Pac-West Conference).
Now it's time for the Swords to go into practice to re-evaluate their defense, turnovers and shot attempts in preparation for their game against Cal Baptist on Sat., Feb. 4.
"Our goal is to win the championship and have sole ownership of the title, no sharing," said Eric Bovaird, the first-year head coach of the Silverswords.